The third edition of the Wine Summit talked about a magical territory between the Dolomites, its people and their great challenge of the mountain…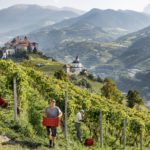 Wine summit is an extraordinary event that, through the masterful organization of "Consorzio Alto Adige Wines", recants the stories and souls behind the bottles of wines from this magnificent land. Alto Adige is a jubilation of diversity, and its "contrasts" are the main theme of the occasion. For the third consecutive year, the consortium succeeded in bringing enthusiasts and professionals closer to this wonderful and extreme territory nestled in the mountains. This year, a total of 80 producers presented around 260 wines. Even if it is a small portion compared to the entire wine production of the region, the "Consorzio Vini Alto Adige" was able to give, once again, a clear idea of the enormous potential of the Alto Adige territory. Days spent in close contact with producers that keep up their precious traditions and combined them with innovations. A unique experience among old vintages, vertical tastings combined with culinary experiences inside ancient castles. A mix of stories and tales told directly from those who heroically, every day, take care of this absolutely incredible place.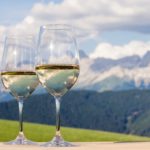 Alto Adige, a composite, wine territory wedged between glacial valleys.
Alto Adige is one of the smallest wine-growing areas in Italy which, with its 5600 hectares (13.137 Acres), is one of the wildest and most fascinating wine-growing areas in the country. It is the northernmost wine area of the boot. One of the main and historically coveted access gates by land to Italy located at the border with Austria, this territory is an extreme land, a cradle of cultures and certainly a precious testimony of the incredible biodiversity that characterizes the Italian regions. The theme of 'contrast' at the Wine Summit Event 2021, perfectly sums up the soul of this territory. The hectares of vineyards are distributed in a Y-shaped territory at an altitude ranging from 200 metres (650 feet) above sea level up to a maximum of 1000 metres (3,300 feet). An infinite variety of morphologies, microclimates, and landscapes coexist in this area.
The great diversity of soil, climate, and the imperviousness of the vineyard's location, with a vast range of elevations, make this Alto Adige a fascinating and continuous challenge between nature and the wine producers. The potentials are endless, and it is interesting to understand how each of them interpret the terroir. The Alps act as a shield against the cold currents that come from Northern Europe; the region is then open to the south allowing the gentle Mediterranean currents to create a balanced microclimate. The air flows through the vineyards providing not only mild temperatures and substantial rain but also a dry climate. These conditions are particularly suited for the production of authentic wines, rich in character and unique in their peculiarities. The climate ranges from alpine conditions, fresh and characterized by important thermal excursions, such as the Valle Isarco and the Val Venosta; to sun-kissed valleys, milder Mediterranean climates influenced by the presence of the Lakes, such as the Bolzano area, the Oltradige and the lower Atesina.
A cradle of a wide range of grape varieties
Despite the small dimension of the wine growing area of the Alto Adige, the possibilities in the selection of the vine's variety are endless. The biodiversity allows the cultivation of a unique range of indigenous and international grape varieties. Here, the attention to details is fundamental; there are about 150 different types of rock, the composition of the soil changes within a few metres, it is a rich land that requires meticulous attention.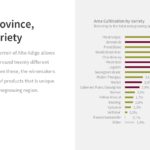 The last decades have marked a change in the level of wine production. In the past, this territory was mainly linked to two native vines: Schiava and Lagrein (two red varieties), nowadays in Alto Adige about 20 different varieties are cultivated. The air of change has been well received by the "altoatesini" winemakers, who, with conviction and passion, have changed the way of conceiving wine as a finished product, maintaining a strong link with the past. The Schiava, is still the second most used grape variety but today the production is divided into 64% production of white wines and 36% of red wines. Tradition and innovation combined to illuminate a territory that is difficult to explain just with words. In 1971 the DOC mark was introduced and today more than 98% of the viticultural surface has this certification. Today this is a land of varieties such as Pinot Blanc, Sauvignon Blanc, Gewürztraminer, Pinot Grigio, Riesling, Sylvaner, Veltliner, Müller Thurgau, Kerner, Schiava, Pinot Noir and Lagrein. They are recognized for great white wines, but also for red and sparkling wines. Elegant production characterized by exuberant freshness and important acidity is the key factor for the longevity of the wines.
Seven distinct growing sub-regions in Alto Adige linked to wine grape varieties
–  Alto Adige Valle dell'Isarco (Eisaktal): It is about 80km long, it is a valley entirely crossed by the river of the same name. Mountain wines, elegant and bold. A production focused on white wines. The vines permitted by the regulations are Sylvaner, Veltliner, Pinot Grigio, Muller Thurgau, Kerner, Gewurztraminer, and Riesling
–  Alto Adige Santa Maddalena: It is an area located north of Bolzano, it is a land dedicated to the Schiava, a historic native grape variety. The wines from the vineyards of the Villages of Santa Maddalena may be Labelled as "Classico – Klassisch"
–  Alto Adige Terlano: It is an area of white wines. The two main varieties are Pinot Grigio and Chardonnay, which by regulation must compose at least 50% of the blend
–  Alto Adige Meranese: Production area of Schiava, the regulation allows the addition of a maximum of 15% of complementary grapes. This sub-zone is located around the town of Merano.
– Alto Adige Val Venosta: This DOC is located to the north-east of the region, it allows the production of wines based on Pinot Blanc, Chardonnay, Pinot Grigio, Muller Thurgau, Riesling, Kerner, Sauvignon blanc, Gewurztraminer, Schiava, and Pinot Noir, with the obligation to indicate on the label the varieties used in the blend.
– Alto Adige Colli di Bolzano: This DOC is dedicated to Schiava, the production area surrounds the DOC Santa Maddalena
–  Alto Adige Lake Kaltern (Lake Kaltern):   it is the largest natural lake in Alto Adige, and has a great influence on the wine products from this area. This breath-taking place is the home of Schiava. The wine produced in this area is labelled as "classico-klassisch" and the designation "Alto Adige" may be used.  The DOC includes the villages of: Caldaro, Appiano, Termeno, Cortaccia, Vadena, Egna, Montagna, Ora and Branzollo. High quality wines are sometimes marked with "Superiore".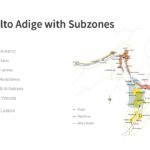 The heterogeneous features of the territory are combined with those of culture. Excellences coming from ancient traditions and the hard work of 5000 winegrowers. It is a territory united by the great love for the land, the wines produced come from private estates, micro wineries, and cooperatives. These cooperatives are aggregations of small producers who deliver their grapes each year. Even if these "cantine sociali" used to be linked to massive productions, it is important to underline that these big entities, in the last decades, have always aimed for great objectives, trying to speak for their land and reaching results of great quality. Alto Adige Doc is the smallest appellation in Italy, but probably one of the most complex. The necessity to transmit a better knowledge of this hidden territory, has oriented the Consortium towards a more detailed zonation and soil mapping to enhance the characteristics of each individual area. The officiality of the new zonation is still waiting for confirmation. However, it could be an important step for this wine district that would mark the path to follow in the future.
Wandering in Alto Adige, beyond the borders of wine.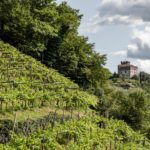 Alto Adige is an extreme and adrenaline-filled territory. A land made fascinating by the great balance of its contrasts. Nature is the master of this place, a painting with breath-taking views: white peaks, imposing mountain walls of the Dolomites, a UNESCO World Heritage site that rises up to more than 3,000m, forests, lakes, gentle green valleys and a unique play of light and shadow that is difficult to describe in a just a few lines. Alto Adige offers a wide range of travel experiences, unique for their visitors, to explore the world of wine. Mixing the greatest treats from the cellars with cuisine, sports, wellness, nature. Activities that turn the wine vacation both of wine connoisseurs and wine enthusiasts, into an unforgettable souvenir. Wine here is not just an experience linked exclusively to luxury. The history and culture of Alto Adige are deeply linked to rural traditions, men or rather "heroes" who have dedicated their lives to their precious land. It is a perfect destination for those who love less frenetic rhythms. You can spend days in the open air, between charming paths or ski slopes; walk through the different Weinberg (German word used for the vineyards, literally means "wine mountain") and stay in authentic accommodation or participate in culinary experiences and tastings in the wineries also known as "Schloss", the German word for "castle". The variety of nature in Alto Adige/South Tyrol is combined with that of culture. The towns were coloured by many men of different cultures, Italians, Germans, and Latins. In this place of the thousand shades to discover, there is something that is never missing: Harmony. In South Tyrol you will leave a small piece of your heart.
Tasting report of my journey in Alto Adige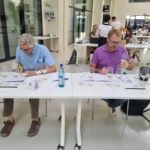 During my stay in Alto Adige/SouthTyrol, I had the opportunity to visit wonderful wineries, meet lovely wine producers and evaluate great wines. I concentrated my tasting predominantly choosing varietal wines.  I hade the great honor to taste most of the wines with my colleague and friend Richard Baudains, historical contributor for Decanter in Italy.
white wines on my radar
Alto Adige Pinot Bianco Limes 2019 – Niedrist Ignaz 
Brilliant pale straw core and watery rim. The nose is fresh and fruity with scents of lemon. Dry and sapid with bright acidity. Well balanced with good fruit and harmonious end. I liked this wine.
Alto Adige Terlano Pinot Bianco Riserva Vorberg 2018 – Cantina Terlano  
Pale yellow core with greenish hues. The bouquet is intense and ample with notes of grapefruit and apricot with scents of ginger. Dry with good acidity and a fruity, long finish with pleasant light notes of almond. A great wine.
Alto Adige Chardonnay Seduction Meisterlinie 2018, Josef Brigl
Yellow core, lighter on the edge. Intense flavour of citrus fruit and green apple with light floral notes. Dry with lovely acidity which matches a good alcohol level. The aftertaste is persistent A fine, charming wine!
Alto Adige Chardonnay Riserva Vigna "Castel Ringberg" 2019 – Elena Walch 
Straw coloured with paler rim. Pronounced flavour of pineapple with peachy overtones. Vibrant entrance with medium alcohol. The mouth is intense and fresh with racy acidity. Quite a long finish. A very good wine!
Alto Adige Pinot Grigio Opes 2019 – Ritterhof Weingut 
Deep yellow core. The wine expresses a beautiful bouquet of lime and orange peel with overtones of thyme. Fresh, balanced palate with good persistence. The acidity matches well with the fruit. A delicious wine!
Alto Adige Valle Isarco Sylvaner – Kuenhof 2020 
Clear with lemon colour turning slightly green on the rim. It expresses nice aromas of lemon and peach mixed with light notes of acacia. It is vibrant and structured to the palate with harmonious and fresh finish. Good aging potential.
Alto Adige Gruner Veltliner Praepositus 2019 – Abbazia di Novacella 
Medium yellow core with light hues. The wine displays an intense perfume white grapefruit, and lemon with a light note of mint. Dry, sapid, and intense with lively acidity. Well balanced and harmonious. An excellent wine.
Alto Adige Riesling 2019 – Falkenstein 
Brilliant, yellow colour. Intense bouquet of lemon and jasmine flowers with a hint of petrol. Fragrant entrance, round with ripe fruit and high acidity. Well-structured, mineral, and complex. I really like it!
Alto Adige Valle Isarco Riesling 2019 – Tenuta Kofererhof 
Pale straw core with a watery rim. Intense flavour of ginger with scent of apricot.
Dry, fragrant palate with good acidity. Rich and elegant aftertaste. I enjoy it!
Alto Adige Muller-Thurgau Feldmarschall von Fenner 2020 – Tiefenbrunner
Pale straw yellow core with greenish rims. Intense bouquet of peach and jasmine flowers with a hint of mint. Fragrant entrance, with good fruit and crispy acidity. Elegant, harmonious finish. A great wine.
Alto Adige Sauvignon Quintessenz 2019 – Kellerei Cantina Kaltern 
Clear gold yellow core with paler reflections. Intriguing nose with flavour of pear and matured fruit with a hint of almond. Lovely, creamy palate with present acidity. Discrete alcohol level with good persistence. Lovely wine.
Alto Adige Voglar 2018 – Dipoli Peter 
Medium yellow core with paler rims. Clean with a beautiful nose of apricot and mango with flowery overtones and a hint of almond. Medium body with crispy acidity and lovely sapidity. The alcohol is well balanced with the fruit, Elegant aftertaste. A fine wine with aging potential.
Alto Adige Sauvignon The Wine Collection 2017 – Cantina Produttori S.Michele Appiano 
Straw yellow core lighter of the edge. The wine shows lovely perfume white peach and mango with a light elderflower note. Dry, sapid, and intense with racy acidity and freshness. Well balanced and harmonious. I like this wine!
Alto Adige Gewurztraminer Nussbaumer 2019 – Cantina Tramin 
Medium yellow core with lighter hues. Intense flavour of apricot and jasmine flowers with a hint of cinnamon. Vibrant in the palate with lovely fruit and fresh acidity.  Well -structured with long finish. I really liked it!
red wines on my radar
Alto Adige Pinot Nero Mason 2019 – Tenuta Manincor 
Pale ruby with lighter hue towards the edge. Intense bouquet of cherry with balsamic notes and scents of violet. Lovely entrance, round with ripe fruit, medium body and crispy acidity. Solft, velvety tannins with a long finish. I love it.
Alto Adige Pinot Nero Schweizer 2018 – Franz Haas
Brillant, ruby red with watery rim. Pronounced flavour of cassis with overtones of violet, hint of rhubarb. Good structure with quite bright acidity. Rich red fruit with soft texture. Harmonious end. Great wine.
Alto Adige Lagrein Gries Riserva Select 2018 – Tenuta Hans Rottensteiner 
Intense ruby red with paler reflections. Distinctly violet floral nose mixed with hints of chocolate. Full bodied with pleasant red notes developing on the palate. Mild tannic structure. Long and fresh aftertaste. Very good wine.
Alto Adige Lagrein Riserva Prestige 2019 – Cantina Bolzano 
Brilliant, deep ruby core with a compact purple rim. Various and intense aromas of ripe plum, blackberry and chocolate. Full bodied wine with rich dark cherry fruit well balanced with velvety tannins. Elegant and harmonious finish. Outstanding wine
Alto Adige Schiava Alte Rebe Gschleier 2019 – Cantina Girlan 
Pale ruby colour. The wine displays intense flavour of wild berry with scents of prune and spicy notes. Fragrant, juicy palate with present acidity. Discrete alcohol level and soft tannins well integrated with the fruit. Lovely wine
Always a big thank to my collegue and friend Liz Palmer who always asked me to report about Italy and Italian Wine in her site.
All my support to STILL I RISE, an independent organization offering education and protection to the world's most vulnerable children