Anteprima Sagrantino 2023, a special moment to explore the wonderful wine escape of Umbria more deeply.
One of Italy's most unique native varieties, and Umbria's flagship grape, was show cased
on April 19th  and 20th  in the charming town of Montefalco. The Anteprima Sagrantino is
an opportunity each year for wine professionals and enthusiasts to rediscover this symbol
of Umbria's heritage. This year was the release of the 2019 vintage of Montefalco di
Sagrantino DOCG which requires over 3 years of aging before it can be released onto the
market. Although it always takes centre stage, it is surrounded by the reputed neighbours
Montefalco Bianco DOC, Montefalco Grechetto DOC, Spoleto Trebbiano Spoletino DOC,
Spoleto Trebbiano Spoletino Superiore DOC, Montefalco Rosso DOC, and Montefalco
Rosso Riserva DOC. The town hall of Montefalco, also known as the Ringhiera dell'Umbria (or the railings of
Umbria) for its perched position overlooking the countryside, was transformed into a
magnificent tasting room that welcomed the Italian and international press. Since 2015 the
Consorzio Tutela Vini Montefalco has organized the event in the village of Montefalco.
A New Vision for Montefalco
This year the Consortium presented a new initiative that shifts the focus from "Anteprima
Sagrantino" to "A Montefalco". This new name represents a change in perspective that
offers a more holistic expression of Montefalco as a "Land of Wine". No longer just
Sangrantino or an Anteprima event, "A Montefalco" is meant to show visitors the evolution
of the numerous native varieties in addition to Sagrantino that the region expresses today.
Sustainability is another important theme of the event. The Consortium launched its
"Sangreentino" initiative that provides electric cars and bikes to transport visitors to the
wineries and on other tours. The project plans for 30 charging points to be available at
different wineries. In addition, 31% of wineries have received or are transitioning to organic
and biodynamic certifications. Their sustainability practices also include solar systems,
biomass boilers, botanical gardens and ecological corridors to protect bees and promote
biodiversity.
Montefalco, Land of wine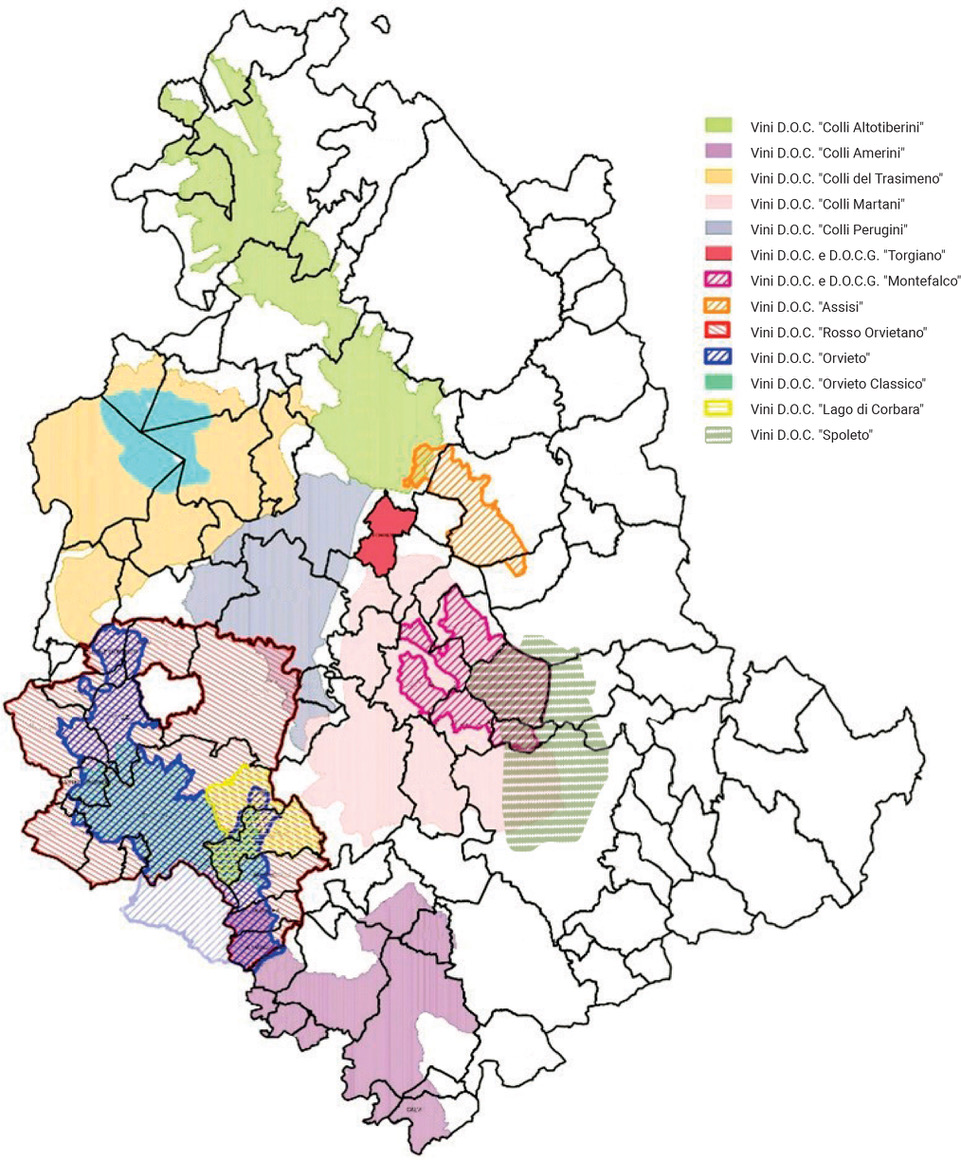 Montefalco lies in the heart of Italy surrounded by hilltop vineyards and historic villages. Its character is
defined by its authenticity and unique terroir. As a part of the country's only landlocked region its rivers,
lakes and hills provide a variety of elevations and soils. Add to that its Mediterranean climate and the result is
wine with balance, depth and complexity. Most of the grapes grown here are native and have been thriving for more
than a thousand years. Of course, one grape has become a symbolic expression of the
Montefalco terroir: Sagrantino.
Sagrantino and the other fingerprinting grapes of Montefalco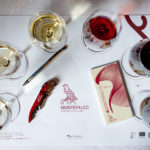 Sagrantino is inextricably linked to Montefalco's past and future. The grape's name is said
to derive from 'falco sagro" or 'sacred falcon'. Legend recounts that in the 13th  century
Sagrantino wine was used to cure the dying falcons in the area that were much adored by
the emperor Federico. Perhaps not a coincidence then that this would become the most
famous wine from Montefalco or "Falcon's Mountain'. In 1992 Montefalco Sagrantino was
awarded DOCG status. Sagrantino was traditionally made in a sweet 'passito' style but its
dry version has now earned it a place among Italy's best red wines. This thick-skinned
grape is low yielding with a lot of tannin, structure and intensity which also gives it
excellent aging potential. This tannic power is harnessed through the required aging
process for DOCG certification. But as the Montefalco wine producer's Consortium demonstrates
in its inclusive approachto promoting the wines of Montefalco, Sangrantino is just one of several local grape
varieties to be discovered. For example, Trebbiano Spoletino and Grechetto are among
the white wines that should not be missed. Trebbiano Spoletino can be surprisingly rich
and structured with both fruity and savoury elements that are delivered with refreshing
acidity. There are also Sangiovese based reds produced under the Montefalco Rosso
DOC. These can vary from fresh and fruity with herbaceous undertones to more structured
wines aged in barrique. You can find reds and whites alike in a dry style or sweet made in
the 'passito' method.
The epicentre of wine tourism in Umbria 
Montefalco has been known as the "Land of Wine" since the Middle Ages.
Evidence that vines were present in the area date back to 1088. These native grape
varieties have evolved in harmony with local traditions and culture making this land of
wine an incredible place for wine enthusiasts to visit.  The region has seen rapid growth of
small, dynamic estates over the past decade. They are supported by the Consortium and
the combined determination of the local hospitality, restaurants, heritage sites and fellow
wineries to promote the area and its great qualities, especially after the pandemic. The
'Associazione Strada del Sagrantino' is one of the main bodies promoting tourism along the
wine road to these 5 towns: Montefalco, Bevagna, Castel Ritaldi, Giano dell'Umbria and
Gualdo Cattaneo. Not only do each of them have deep rooted wine traditions, but they
also offer rich history, beautiful architecture, and tasty local specialties. For example, the
Museum of Montefalco is a treasure trove of art and a reference point for Umbrian history,
tradition and painting. The Rocca Sonora is a fortress that stands in the main square of
Gualdo Cattaneo as an emblem of the territory's fortified defence system. San Francesco
Church in Giano dell'Umbria has some incredible frescoes by the reputed painter
Giovanni di Corraduccio. And the uniquely shaped Piazza Filippo Silvestri in Bevagna is
one of Umbria's most attractive medieval squares.
The 'A Sagrantino' event celebrated the 2019 vintage of Montefalco di Sagrantino DOCG
with a 95/100 score, declaring it an "Outstanding Vintage". The growing season had
plenty of water which combined a prolonged period of vegetative growth and a gradual
maturing of the grapes creating the perfect combination for grapes of the highest quality to
enter the cellar. Add to that excellent acidity levels and we can imagine a bright future for
these wines with great aging potential.
Here is a selection of Sveva Consonni's favourites that are also fantastic wineries to visit
with memorable tasting experiences and many lodging options.
Scacciadiavoli
A landmark estate in Montefalco, Azienda Agraria Scacciadiavoli has been producing wine
since 1884 and was bought by the Pambuffetti family in 1954. The name means "cast out
the devils", taken from a local 19th century exorcist who was known to use wine while
performing his rituals. Today the winery is a state-of-the-art 4 level facility allowing for
gravity flow throughout the entire production. Winery visits consist of a guided tour and
different tastings to choose from paired with Pambufetti family products or even lunch.
Scacciadiavoli – Montefalco Grechetto Doc 2022
Brilliant, yellow colour. Intense flavour of ginger with scent of apricot.
Fresh, balanced palate with good persistence. The acidity matches well with the fruit. I enjoyed it!
Pardi
Founded in 1919 by three brothers, Alfredo, Francesco, and Alberto. They first started
making wine in the local hospital in Montefalco. Eventually their wines were exported all
over Italy, including the Vatican. Today their great grandsons Gianluca Rio and Alberto
Mario keep the family tradition alive. With their 11 hectares of vines, they grow the local
varieties Sagrantino, Sangiovese, Grechetto and Trebbiano Spoletino, but also
international grapes like Merlot, Cabernet and Chardonnay.
Pardi – Montefalco Grechetto Doc 2022
Clear with lemon colour turning slightly green on the rim.  The wine displays an intense
perfume white grapefruit, and lemon with a light note of mint. Dry, sapid, and intense with
lively acidity. I liked this wine.
Le Cimate
Le Cimate winery is the culmination of over 200 years of dedication to agriculture by the
Bartolini family. From farming in the 1800's to viticulture in the 1960's and then the
strategic purchase of land in 1992, the family did not start building their winery until 2011.
Three generations contributed to its construction, including Grandfather Paolo who was
president of the local community winery Colli Spolentini for more than 20 years. The
location at 400m nestled against the Martani Mountains provides an excellent
diurnal shift in temperatures with regular winds to keep the vines healthy. Surrounding
their 23 hectares of vineyards are 33 hectares of olive groves and 15 hectares of hazelnut
orchards. The winery benefits from the latest technology and produces wines from an
impressive array of grapes, both native varieties and international favourites such as
Chardonnay, Viognier, Vermentino, Merlot and Cabernet Sauvignon.
Le Cimate – Spoleto Trebbiano Spoletino Doc 2021
Medium yellow core with light hues. Intense bouquet of peach and jasmine flowers with a
hint of mint. Fragrant entrance, with good fruit and crispy acidity. A delicious wine!
Tabarrini
Giampalo Tabarrini is the fourth generation who took control of his family's agricultural
estate in the late 1990's and transformed it into the winery that it is today. His vision is very
focused on terroir. Three of their bottlings are selected from distinct parcels among the
vineyards to highlight their unique expression. In addition to their 15 hectares of vineyards
they have olive groves and wheat fields from which they produce their own stone ground
flour perfect for making pizza, pasta, and desserts.
Tabarrini – Boccatone – Montefalco Rosso Doc 2018
Intense ruby red with paler reflections. Various and intense aromas of ripe plum,
blackberry and chocolate. Full bodied with pleasant red notes developing on the palate.
Long and fresh aftertaste. A great wine.
Cantine Lungarotti
Founded in the 1960's by Giorgio Lungarotti, the family has an estate in Montefalco and
Torgiano, just 30 minutes northwest of Montefalco towards Perugia. The winery is a
family affair with Giorgio's two daughters Chiara and Teresa now running the family
business. Their mother Maria Grazia was a pioneer in wine tourism creating the region's
first wine museum in the 1970's and more recently an olive and oil museum. Teresa
herself was one of Italy's first female oenologists and her children Francesco and Gemma
manage the estate's sales and events. All their wines have been organic since 2010.
Lungarotti – Montefalco Sagrantino Docg 2019
Brilliant, deep garnet colour with compact rim. The nose shows beautiful flavour of
blueberries. Spicy with a hint of mint. Well-structured wine with good acidity and velvety
tannins. Elegant with long finish.  I love it.
Arnaldo Caprai
Founded in 1971 by Marco's father Arnaldo Caprai who was a textile entrepreneur. In
1988 Arnaldo passed the reins to Marco when he was only 21. He has grown the
winey from just 12 acres to a thriving 370-acre estate. Early on he made the choice to
drastically reducing the quantity of grapes to focus on quality. Believing in Sagrantino's full
potential he began exporting dry Montefalco Sagrantino to the U.S. even before its DOCG
status, paving the way for an international revival of Sagrantino. The state-of-the-art winery
in Montefalco offers multiple tours and tastings on their panoramic terrace or in the
vineyards.
Arnaldo Caprai – Collepiano – Montefalco Sagrantino Docg 2019
Deep garnet core with paler rims. Pronounced intensity of ripe plum and prune with
overtones of tabacco. Lovely ripe black cherry in the palate. Fragrant and juicy with present
acidity. Fresh delicious finish. A charming wine.
Antonelli
Originally owned by the bishop of Spoleto for over 600 years, the property was bought by
Francesco Antonelli in 1883. Today the Antonelli estate is spread out over 430 acres in the
heart of the Montefalco territory. The variety of terrain from rich clay deposits to rocky
limestone results in several microclimates with each plot expressing its own nuances. The
cellars are completely underground allowing for the use of gravity flow during production.
The grapes, mostly Sagrantino and Sangiovese for reds and Grechetto and Trebbiano
Spoletino for whites, are all organic. Visitors are welcomed in the beautifully restored
antique farmhouse called Casale Satriano that includes 6 apartments and a swimming
pool.
Antonelli – Montefalco Rosso Doc Riserva 2019
Brillant, ruby red with compacted rim. Pronounced flavour of cassis and violet. Spicy with
overtones of leather. Dry and fragrant, with soft tannins and long persistence. Full body
with a lovely, harmonious finish.
Devis Romanelli
Perched on San Clemente hill in Montefalco the Romanelli estate has been cultivating
wine, olive oil, walnuts, and grains completely organically for over 40 years. Their love for
this special terroir can be seen in everything they do from the Romanelli Nature project
that promotes sustainability and biodiversity to their eco-friendly approach to tourism. The
winery is run today by the young and dynamic Devis Romanelli. He produces three special
Cru wines that are a result of decades of research into the unique qualities of the different
plots on the estate.
Devis Romanelli – Terra Cupa – Montefalco Sagrantino Docg 2017
The colour is intense dark ruby with a compact rim. Complex nose with flavour of dark
cherry and prune. A full body wine with good freshness. Present delicate tannins and quite
long aftertaste.  A great wine.
Tenuta Bellafonte
Located just outside of Bevagna, Tenuta Bellafonte was started by a successful
businessman from Milan, Peter Heilbron, who fell in love with Umbria and the unique
terroir of Montefalco. A good example of a winery dedicated to sustainability and
biodiversity. They use solar panels and a biomass boiler to avoid any environmental
damage or waste. The wine production and cellar are both underground to blend in
with the landscape. The vineyards are surrounded by forests and a massive olive grove of
2500 trees which they use to produce their own olive oil. Their vines are Sagrantino,
Sangiovese and Trebbiano Spoletino grapes. A large country estate was built to welcome
visitors with 7 charming bedrooms, a lush garden and indoor pool.
Tenuta Bellafonte – Collenottolo – Montefalco Sagrantino Docg 2016
Ruby core with violet hues. Intense bouquet of black cherry and prune with a note of
rhubarb. The palate expresses ripe red cherry, blackberries with a hint of vanilla. Soft
tannins, well integrated with the fruit.  Elegant.
Cantina Tudernum
Established in 1958 by a group of vineyard owners who decided to join forces to market
their wines as a cooperative group. They grew from only a few hectares of vines to the 400
hectares they have today. Since the 90's they have invested in quality and technological
improvements to make an impressive variety of wines from both modern and classic
styles, also using rare native varietals.
Cantina Tudernum – Fidenzio – Montefalco Sagrantino Docg 2016
Deep ruby core, paler on the edge. Attractive bouquet of strawberry and violet mixed with
spicy notes of black pepper. Full body with lots of red fruit in the centre palate with smoky
scents on the back. Sweet, velvety tannins and quite long aftertaste. A harmonious wine.