A tempting invitation to explore the magnificent land of Montalcino.
From 11th to 21st November, the village of Montalcino under the master organization of the Consorzio del Vino Brunello di Montalcino, hosted "Benvenuto Brunello" dedicated to the new vintages of this charming famous wine. The 2022 edition gathered an important slice of wine writers, journalists, bloggers and traders from around the world to present the Rosso 2021, Brunello 2018, Brunello Riserva 2017. 137 wineries and 300 ready-to-taste-labels read to be released on the market from January 2023.  For the first time, on 17th November, "Brunello day" made its debut simultaneously in the cities of London, New York City, Los Angeles and Toronto. The last 3 days of the event in Montalcino were open to the public by ticket. A unique opportunity for wine lovers to enjoy themselves in the increasingly innovative and prestigious territory of Montalcino and furthermore to get a chance to meet the brilliant producers of this territory.
A unique territory for the pure expression of Sangiovese 
The production area of Brunello corresponds to the Historical Limits of the Municipality of Montalcino, a picturesque village, just 40 km south of Siena, surrounded by vineyards, olive groves and historical sites. The Montalcino district comprises 3,500 hectares of vineyards registered under the DOC and DOCG designations The production area is in the shape of a square, around the town and it's very interesting to go through the microclimate differences in such a small territory. It is a dry land that enclaves a multitude of combinations of microclimates and soils. Generally speaking, the grapes located in the cooler northern areas of the DOCG tend to ripen more slowly. These vineyard sites are located in higher elevation (but never over 600 metres) and they are planted in gravelly Galestro soil. On the south side the grapes are hosted in quite another environment. The soils are richer, like clay, the sunlight is more intense, sea breezes blow from the Tyrrhenian Sea, and the wines result more powerful. Furthermore, the presence in the South of Mount Amiata (1740m) has an important influence by shielding the grapes from strong atmospheric phenomena and providing breezes that help keep the climate dry and the vines' healthy.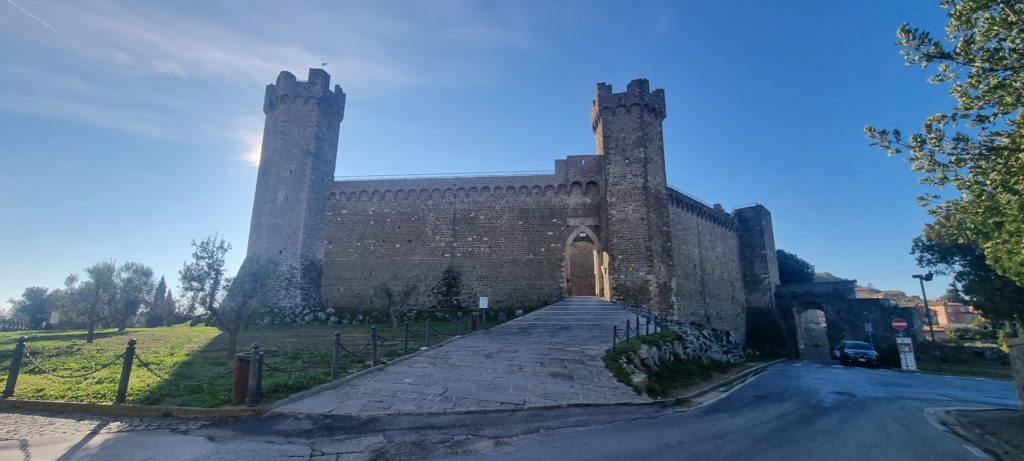 The Sangiovese grosso, the fingerprint of Brunello 
Brunello di Montalcino is a 100% Sangiovese based wine that needs long periods of aging before the quality peak, but once reached, it represents a true champion of balance, complexity and maturity. Sangiovese is the only grape allowed in the Brunello di Montalcino DOCG, it is a very sensitive native grape and one of the highest quality varieties that needs careful practicing, an impeccable attention to its production process, harvest and vinification It is a variety that shows off fragrant notes of cherry and plum, hints of spice and an extraordinary texture. The natural tannic structure and high acidity levels of the Sangiovese are the main factors of its longevity. It performs differently in each different site and changes depending on its environment. The terroir combined with the play of time has always given elegant wines with perfectly balanced, rich bouquets. Brunello di Montalcino never fails to be a surprise. It is an example of an impressive year by year quality persistence and every vintage looks at a different profile of the beauty of Sangiovese variety, revealing a different nuance of its character each time.
A successful wine story 
The road that leads Montalcino to be the phenomenon that it is today is a path that speaks of great difficulties, resilience and a success that in the world of Italian wine has no equal. Many interpreters, local producers, important winemakers and wine families from other regions and even international investors, but who all produce Brunello with the same grape, under the same strict rules and with the same quality objectives. The shared path and consistency of nature at its best, is perhaps the greatest strength and energy of the ascent, and subsequent permanence of Brunello di Montalcino among the wines that we can define legendary. The echo of success, in the last 50 years is continually expanding and there is no oenophile that doesn't proudly display Brunello wines on their precious wine shelf. Today, the popularity of Brunello di Montalcino continues on world markets, thanks to a sharply rising average price, a good hold on volumes, and further growth in strategic markets, already protagonists of a boom in demand over the previous two years. The results are noted by the Consorzio del Vino Brunello di Montalcino, in the release of data recorded by the new Price Observatory on sales over the first nine months of the year. According to the sample of wineries, accounting for 28% of designation sales, the growth trend in September registers + 21.5% in terms of value, with a leap in average prices of "Vintage" and "Riserva" products – now close to 27 Euros per bottle ex cellar (+ 14%, with peaks of over 24% in the USA) – well beyond the inflationary push. Also on the rise, surprisingly for a not very rich last vintage (2017), are the volumes, up by 6%. The projection over the 12 months of 2022, according to the Consortium, should bring a total value of Brunello sales close to 250 million Euros. Numbers for Rosso di Montalcino are also up, with rises in both value (+ 20%) and volume (+ 9%). In Italy it is known by 2 out of 3 consumers, surpassing in notoriety even the nearby Tuscan Giants. This is the data collected by Wine Intelligence that analysed the strength and recognizability of the 46 main appellations made in Italy. Domestic demand proceeds very well, confirmed as strongly rising and now representing about one third of the entire market thanks to a growth in volumes of over 17%, with values at + 31%. Overall, in the first nine months of this year, nearly 7 million bottles of Brunello di Montalcino were sold between "Vintage", "Vigna" (i.e., single-vineyard) and "Riserva" products, the latter being the protagonist of a very strong increase over the same period in 2021.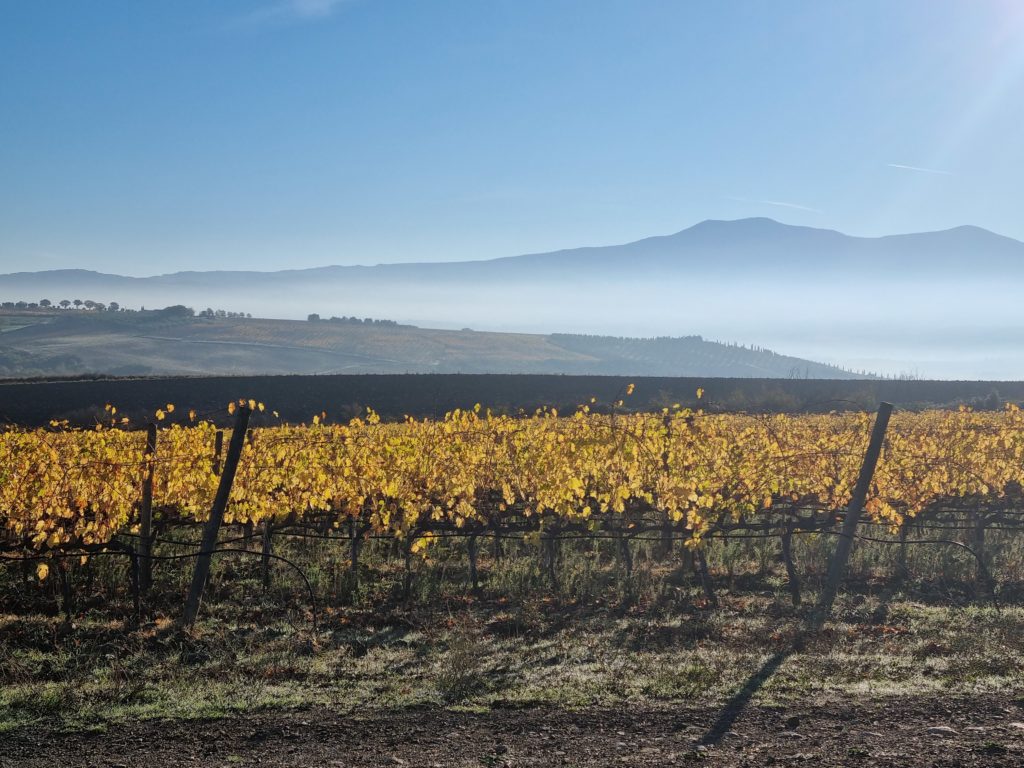 Montalcino, a dream wine travel destination
Montalcino was a very important stop of the Via Francigena, a road that ran from England to Rome and, therefore, it welcomed and hosted important men of power, nobles, politicians, popes… The great Wines of Montalcino were crafted to satisfy the illustrious visitors who were traveling to reach the Eternal City, and that's why the hamlet has always displayed absolute quality winemaking for centuries.  Montalcino today is internationally affirmed as an authentic, high-end wine destination. Visiting Montalcino is not just about tasting.  It has to do with the history of its people and it helps you to understand why wine is so integrated into the culture of its inhabitants, who from generation to generation continue to pass on their passion and know-how. The town welcomes many visitors and the care of its hospitality has become just as important as the attention to its wine. Ancient buildings and modern B&B, luxurious accommodation within the wine estates and impeccable hotels. The cellars are open to all visitors and the experiences to participate in are numerous. It is possible to choose the itinerary that best suits their own needs and each chosen path knows how to leave its mark. The rolling hills of Montalcino are also the setting for two important sporting events, where professional, competitive and amateur cyclists and walkers can take up the challenge or try their hand at routes of different intensities and difficulties: the Brunello Crossing (for the walkers) and L'Eroica (for the cyclists) for example.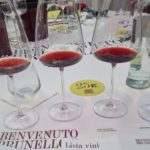 Tasting report of Benvenuto Brunello preview November 2022
Journalists and writers were called to taste and evaluate Rosso di Montalcino 2021 and 2020, Brunello di Montalcino 2018, Brunello di Montalcino Riserva 2017.
Having spent only a day at the event, I concentrated myself on tasting the majority of Brunello di Montalcino 2018. In general Brunellos of this year turned out to be soft, fruity with good structure and finesse.
Brunello di Montalcino DOCG 2018  – (142 wines reviewed)
On my radar:
Le Chiuse di Sotto – Brunello di Montalcino 2018
Bright deep ruby core with narrow rim. Complex nose with flavour of dark cherry and prune. Vibrant, fresh palate with velvety tannins well matched with a lovely fruit and a lively acidity. Soft and persistent. Outstanding wine, clear expression of pure Sangiovese.
San Polino – Brunello di Montalcino 2018  
Brillant medium ruby core with compact rim. Expressive flavour of strawberry, blueberries, and violet mixed with scents of rhubarb and mint. Full body with lively acidity well integrated with rich red fruit. Silky tannins with elegant finish. Delicious wine !
Salicutti – Brunello di Montalcino 2018 – Piaggione 
Colour ranging from ruby core to light garnet rim. Intense bouquet of black cherry and prune with a note of rhubarb. Good structure with medium-plus acidity, medium alcohol and scents of riper red fruit. Soft tannins and fresh finish. I really like the wine.
Casanova di Neri – Brunello di Montalcino 2018 
The colour is deep ruby with a compact rim. It expresses an intense bouquet of blackberry with balsamic notes of eucalyptus and light toasty after tones. Full bodied with rich fruit, well balanced with firm tannins with long finish. Delicious wine !
Pietroso – Brunello di Montalcino 2018  
Brilliant and clean. It shows a lovely bouquet of ripe plum, violet and chocolate with a hint of tobacco. Fragrant, juicy palate with present acidity. Discrete alcohol level and soft tannins. Long finish. Great wine.
Salvioni – Brunello di Montalcino 2018   
Medium ruby core, paler towards the edge. Pronounced intensity of ripe red fruit mixed with notes of chocolate, rhubarb and tobacco. The palate expresses ripe red cherry, blackberries with a hint of vanilla. Good acidity, firm tannins and medium finish. Elegant wine.
Altesino – Brunello di Montalcino 2018 – Vigna Montosoli 
Deep ruby core, paler on the hedge. The nose shows beautiful aromas of plum and blackcurrant with notes of liquorice. The palate is elegant with overtones of black cherry. Dry and fresh, with silky tannins and long persistence. An outstanding wine.
Mastrojanni – Brunello di Montalcino 2018 
Ruby core with violet hues. It complex nose with intense flavour of black cherry and raspberry with lovely hint of cinnamon. Full and harmonious, with soft tannins and a long, gracious aftertaste. A great wine.
Capanna – Brunello di Montalcino 2018 
Bright with a deep ruby core. Intense aroma of black cherry and liquorice with overtones of lavender and new leather. Fragrant entrance with discrete alcohol and ripe fruit. Sweet, velvety tannins and fragrand aftertaste. I like this wine !
Ventolaio  – Brunello di Montalcino 2018  
Intense ruby red colour with paler reflections. Pronounced flavour of ripe plum with light scents of chocolate. Full body with lots of red fruit in the center palate with smoky scents on the back. It expresses harmony with velvety tannins and fresh finish. Harmonious, good wine..
Castiglion del Bosco – Brunello di Montalcino 2018 – Campo del Drago
Colour ranging from ruby core to light garnet rim. Pronounced bouquet of cherry with overtones of blackberry and dark chocolate. The palate is balanced, the acidity matches well with the soft tannins and with the alcohol. Harmonious structure with long aftertaste. Beautiful wine.