The Campania region is known above all due to the stunning beauty of the Amalfi Coast, the authentic food of Naples and the fascinating history of Pompeii. However, a deeper look beyond these treasures reveals a region rich in viticultural history, from the urban vineyards of Naples to the pristine nature and wild soul of Irpinia, one of the most fertile wine-growing regions in Italy.
The unique region of Irpinia was the backdrop to this year's edition of Campania Stories, an event that must not be missed by journalists and wine professionals from around the world who come to experience Campania's newly released wines. Arranged each year by the Miriade and Partners press agency the event is professionally managed by Massimo Iannaccone, Diana Cataldo and Serena Valeriani and is an integral part of their mission to promote the wines of Campania throughout the year. Their Campania stories can be followed at #campaniastories and #iobevocampano or by visiting their website www.campaniastories.com.
Attended by roughly 90 wineries, Campania Stories 2023 started with a wine tasting and gala dinner in the castle of Gesualdo, a charming town known as home of several poets and the origin of the marble used to make the famed statues of the Royal Palace of Caserta. Gesualdo overlooks the valley of North Irpinia, with sweeping views that reach the dormant volcano Vulture in Basilicata and the plains of Puglia. In two days over 300 wines were sampled, both red and white, with a day of touring dedicated to visiting their producers. These visits were undoubtedly the most exciting part of the entire event.
Irpinia is home to Campania's three DOCG's, the internationally renowned Greco di Tufo, Fiano di Avellino and Taurasi with the key grape varieties being Greco and Fiano for the whites and Aglianico for the reds. The terroir here benefits from high altitude hillsides and a diurnal shift in temperatures that helps ensure slow ripening and good levels of acidity in the grapes. Here you can find a mixture of volcanic, limestone and clay soils. The vineyards are surrounded by forests and hazelnuts orchards which have been cultivated for generations.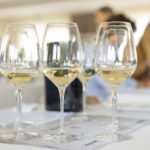 The winemakers here let nature take control as much as possible. This is the case at the family winery Di Prisco, founded in 1994 just outside of Fontanarosa, renowned worldwide for its pink marble. The owner Michele Di Prisco works with just 15 hectares of vines. My favourite wine of the tour I tasted here, a 2003 Taurasi. The 2003 vintage was a very hot and dry year that is now showing at its best. The dark, deep, impenetrable colour was illuminated with orange reflections. On the nose, it showed jammy notes – blackberry jam – some tomato sauce notes and slightly bloody. On the mouth it was impressive with notes of molasses and dark fruit, earthy but with live grippy tannins.
Another important area showcased on these winery visits was the Sannio district, a hidden gem in Campania. This historical place has been cultivating the white grape Falanghina for over 2000 years. Roman buildings stand next to modern ones. The landscape is breathtaking, covered in vineyards, olive groves, steep slopes, and rivers, dominated by the imposing Taburno mountain. Formerly known as an area for bulk white wine production, Sannio producers along with the Consortium Sannio DOP have worked hard over the last decade to develop high quality wines with complexity, many of which are suitable for aging.
A perfect example is Fattoria La Rivolta in Torrecuso. A century old winery founded from a family tradition of farming when the grandson and then pharmacist, Paolo Cotroneo, decided to plant vineyards in the late 90's. With the help of his sisters Giovanna and Gabriella and their cousin Giancarlo they have built an estate that is now 60 hectares with 30 hectares of vineyards located in Sannio and mainly on the hill of Taburno, whose exposure and richness of soil is its defining character. This is also the origin of their flagship wine, Falanghina Sannio DOP, sottozona Taburno, a wine with green hues and a lot of personality. Nectarine, stone fruit flavours, a touch of floral notes, such as acacia on the nose, while in the mouth it shows a light salty taste and vibrant citrusy notes that dissipate with an almondy finish. A clear example of the finest quality of local wines from Sannio.
I look forward to attending next year's Campania Stories which has just been announced will be held in Sannio itself!