An unforgettable and informative experience at Campania Stories, the annual meeting between wine professionals and producers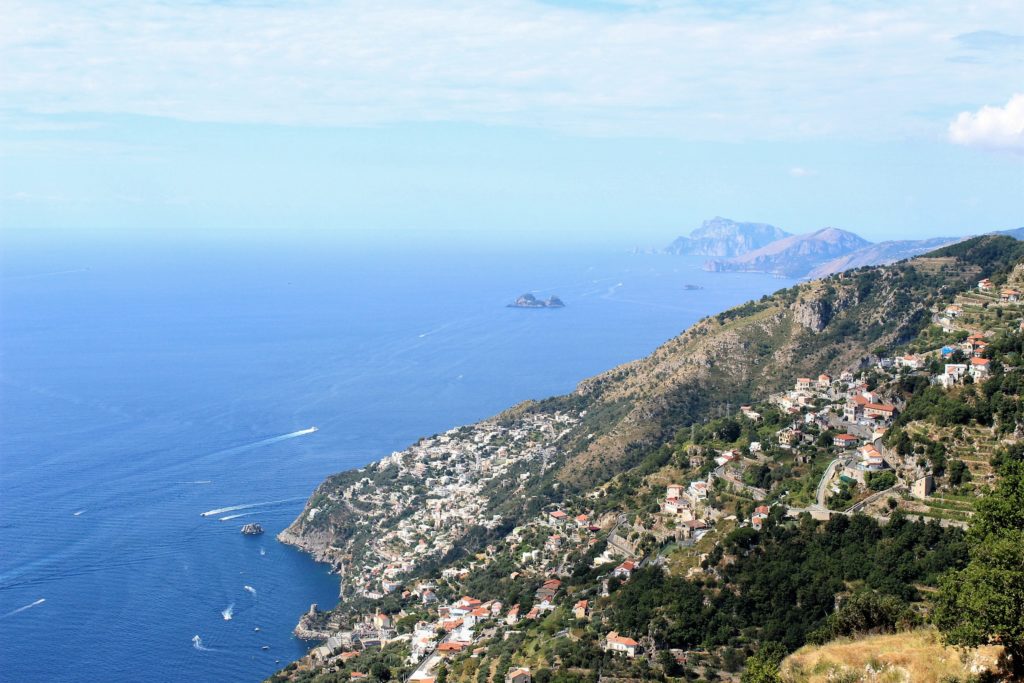 Pompei, The Amalfi Coast, Capri. For sure, if you have never been in one of these places, but at least you have heard about them or you have been intrigued by the history of the still active Volcano Vesuvio, whose eruption destroyed Pompeii in 79 a.d. All these things and beauties belong to the region of Campania, in Southern Italy. Homeland of the world-famous pizza, Campania is also a place of incredible, long lasting wines, both reds like Taurasi and whites, like Fiano di Avellino. Since Roman times, Campania has been well known for great wines: Aglianico, Greco, Fiano are all grapes imported to the region 2000 years ago.
I had the chance to taste these incredible wines, meeting some of the producers, but above all, visiting the places, because of Campania Stories, this annual meeting – to which the locals have high expectations – arranged by Miriade & Partners, an agency founded by two smart, young people, Diana Cataldo and Massimo Iannaccone. Every year they reunite wine professionals from all over Italy, together with wine writers from the BelPaese and abroad, to meet Campania producers. It is a must – be event. I truly could not miss it, as it is the only one way to focus, quickly, on all the wine areas of this wide region. The event is divided in walk-around tasting for wine professionals and focused tasting for the press. But that's not all, the press is hosted around the region to visit producers and their wine cellars. I took part to the press tour and the professional tasting this year, as well, on behalf of Filippo Magnani, great wine writer and wine travel professional and for his blog "Tales behind the wine"  www.filippomagnani.it/blog
With an average production of about 2% of Italian wines and more than 450 producers, The Campania is the tenth region on the National scale for volume by production. There are about 26,000 hectares of vineyards, that is less than 9% of California vineyards, but in this small piece of land there is a high concentration of quality wines, according to the Italian appellation system: 4 DOCG (the peak of the quality pyramid) 15 DOC and 10 IGT all distributed in ten sub regions, among five in Campania's province.
Naples
This is the most populated city of the Campania, with a total of 3 million out of 6 million people in the whole of the region. But it offers an incredible scenario: the gulf of Naples overlooking the volcano, the beautiful islands of Ischia, Capri and Procida, the coast of Sorrento, with the high mountain, Lattari. A varied landscape for several different touristic experiences but also for several styles of wine. The incredible vines of Lacryma Christi (literally, Christ's tears, according to the legend) climbs over the slope of the steep Volcano Vesuvio foothills, enjoying the breeze coming from the sea and making this wine deeply mineral and  incredibly smoky. The 70 wineries established here share small estates embedded between thermal springs, rocky mountains and small, quiet but active volcanos, where sciascinoso and aglianico (among reds) coda di volpe and falanghina (whites) are grown in grey and yellow tuffs covered by ashes. This is the place where old century vines are still productive, saved from phylloxera, by the sandy soil and the nearness to the sea.
Salerno
The Southern and most vast area of the Campania, a peaceful place, homeland of the Mediterranean diet, where people tend to have a high expectation of life for the great quality of food grown here, from tomatoes to olive oil, various vegetables, and fruit. An extensive plain where the beautiful Greek temples were erected 2 thousand years ago and are still standing today in their majesty in the middle of Paestum.
This area also includes The Amalfi Coast, known for its beautiful view and the luxury style of Positano, but less known for the richness of native grapes grown there. The local vine growers are considered heroes for growing vines nestled in the lemon groves over the steep slopes of Monti Lattari. This is the place of the smallest estates where local grapes such as pepella, ginestra, fenile, ripoli are grown. All unknown names and most of time blended to give some of the best known wines of the region, such as Furore. The fertile plain and the smooth hills pass through the whole of this area, while the sea breeze, coming from West, blows over the vineyards planted from sea level to 250 metres. There are many types of Grapes grown here: from international grapes planted after the Second World War to local native grapes, recently restored by young winegrowers. So together with the local aglianicone, a grape similar to ciliegiolo, syrah is planted side by side with pinot noir, together with falanghina, trebbiano, but also resling and malvasia.
Avellino
This province is also known as Irpinia, a sub region of the Campania, a place surrounded by hills and mountains, from 300 to 700 metres a.s.l. Rivers and lakes enhance the diurnal range, slowing down the veraison process of grapes but also of any other fruit grown there. This is a place where 3 out of 4 the region's DOCG are concentrated: Taurasi for the red wine, Greco di Tufo and Fiano di Avellino, for the white. Taurasi was the first and sole DOCG in Southern Italy  for ten years, from 1993 to 2003; this wine comes from a min. percentage of Aglianico, a dark skinned grape, that makes wines with a powerful and brooding character. Grown in the volcanic hills of Irpinia, Aglianico of Taurasi it can ripen as late as November, and it is the type of wine to store and keep for years. Greco di Tufo, as the name shows its Greek origin and tuff rock on which it grows, is a white with a remarkable mineral flavour, different from the delicately scented and subtle Fiano di Avellino, that, with aging, shows stony and smoky notes, similar to Mosel Rieslings.
Benevento
This area, also known as Sannio, shows some unique characteristics, that after the Italian unification, in 1861, someone thought of it as a distinctive region of Italy. With about 10 thousand hectares of vineyard, this is a plain embedded between Matese and Taburno Mountains and for years it was considered as a tank of bulk wine for the rest of Italy.  It is no coincidence that this is home of several cooperatives. In the last decades a lot of small producers have started to make their own quality wines, putting the region in a new light. The red Aglianico del Taburno is the only DOCG of this sub region and is a more rustic (and often the best priced) style of DOCG Aglianico with notes of leather, earth, and dried herbal flavours along with tart black fruit and firm tannins. But the top white grape grown here is Falanghina, a crispy and pleasant white, currently produced in several styles: aged in oak, late harvested, sparkling and sometimes also served as jug wine.
Caserta
This is the Northern part of the region, bordering with Lazio, Rome's region, laying on volcanic soil and distinctive for the presence of the dead volcanos, that still make the soil rich of volcanic dusts and sandstone. This is a vast region, known by tourists for the little Versaille palace in Caserta, a former royal residence, constructed by the House of Bourbon-Two Sicilies as their main residence as Kings of Naples. But not far from this wonder, the dead volcano of Roccamonfina and mount Massico are the places for growing less known but encouragingly good wines emerging in this region: casavecchia, pallagrello, asprinio – a grape still grown according to ancient techniques, with fruit trees such as trellis to make the vine climb vertically.
During the 3 days of tasting arranged by Campania Stories, the yearly-wine event, where producers can show in advance their latest wines to the press and professionals, I had the chance to taste more than 100 wines, showing the trend of modern Campania viticulture. I just picked ten, as highlights beyond the best-known brands and world-famous wineries. These are my favourite less known wines or at least the rarest I could taste.
BENEVENTO – Barbera Monserrato 1973 Sannio DOP 2020 – Contrada La Francesca
This is a single vineyard wine. After harvest and spontaneous fermentation, the wine is daily pumped over and aged for 6 months in terracotta tanks. The colour is typical of Barbera: deep and intense. It shows sour cherry and wild berries notes in the nose, but in the mouth the toasty tannic notes close on tobacco and dark spices.
BENEVENTO – Sannio Fiano Genius Loci 2020 – Terre Stregate
This estate is well known for the awarded Falanghina, but I had the chance to taste their Fiano, that falls under the appellation Sannio DOC. Aged only in steel, this wine shows the true soul of the grape: pale yellow, elegant, and shy on the nose, but with notes of orange blossom, tangerine and a distinctive, vibrant citrusy taste.
AVELLINO – Bacio delle Tortore Fiano di Avellino DOCG 2020 – Passo delle Tortore
As a debutant vineyard, this wine is outstanding. The estate is just 8 hectares, but this wine comes from a sole vineyard and the wine is partially fermented in oak. It is definitely a powerful white in the nose and in the mouth, showing notes of stone fruit. Typically for this wine, it is salty, smooth, and round with a long finish of aromatic herbs.
AVELLINO – Aletheia Greco di Tufo Riserva DOCG 2019 – Donnachiara
This is one of the best-known local vineyards, whose winemaker is the world-famous consultant, Cotarella. As Riserva, this greco is a deep golden yellow, extremely elegant, and powerful. Intensely mineral in the nose, it is refreshing and delicately tannic, typically of this grape. A wine to keep for years.
AVELLINO – Vittorio Greco di Tufo Riserva DOCG 2008 – Di Meo
For sure, this was one of the most intriguing tasting of the whole line up of wines. A 13-year-old white from Greco grape. A youthful wine that stubbornly challenges time and wants to still show its greatness. The colour is intense and deep gold. It shows ripe yellow fruit flavours in the nose. Mineral, round, salty, sometimes greasy in the mouth. It is a thick white that leaves your mouth with dehydrated fruit flavours. Unbelievable.
AVELLINO –  Ion Campi Taurasini DOP 2018 – Stefania Barbot
This niche place is totally concentrated on red wines, in the heart of Taurasi DOCG area. In spite of this aglianico is a very rustic and hard grape, this wine is only aged in steel. The colour is deep and dark. It shows a rich bouquet of sour cherry, black pepper and eucalyptus in the nose. On the tip of the tongue, it shows its sweetness, but the firm tannins follow, giving the wine a vibrant taste. Long black berry finish.
AVELLINO – Hirpus Aglianico Irpinia DOP 2016 – Canonico e  Santoli
5 years of aging for aglianico is a min. reasonable time. And maybe it is the aging or maybe the selection of grapes, but this wine is outstanding for elegance and readiness. It's not a rustic or dry tannic, but elegant, enveloping, and fruity. It's deep colour, intensely fruity in the nose, showing dark fruit flavours, balsamic notes and liquorice. In the mouth it is velvety, long lasting with a pleasant finish of black pepper.
AVELINO – Renonno Taurasi DOCG 2015 – Salvatore Molettieri
Molettieri is a milestone in Irpinia, established in the heart of the region, since 1983. For sure, his Taurasi is an iconic wine: deep and dense in the glass, in the nose it shows cherry notes and chestnut honey. In the mouth it is elegant and full bodied, with thick tannins and a  long finish on coffee and liquorice notes.
SALERNO – Ripaudo Colli di Salerno Bianco 2019 – Tenuta Macellaro
In the deep South of the region, a very young winemaker is stubbornly growing and focusing on some local native grapes. This wine is the flagship of Tenuta Macellaro, a blend of fiano and falanghina, with a distinctive note of chestnut flour, slightly smoky at the end. Salty and crispy in the mouth, it shows some pleasant grassy notes.
BENEVENTO – Aglianico del Taburno Enzo Rillo 2017 – La Fortezza
This well-known vineyard has fought for a long time to emerge and currently the volume makes it one of the largest producers of the region. This aglianico is lively and young, with its ruby red colour. In the nose it shows red berries. Velvety tannins and a round taste make it distinctive with a sweet backtaste of spices, such as vanilla and cinnamon.
At the end of this experience and full immersion, for sure I learnt one thing: it doesn't matter if you are a wine geek or a wine connoisseur, Campania wines will meet your tastes and whatever you are looking for, you will find it there. This region has so much to offer, from hiking up the Volcano, to the shivering view of the Amalfi Coast with its crystal clear water and the delicious food, I have just realised the reason why people say "See Naples, then die".
Special thanks to Diana Cataldo and Massimo Iannaccone, from Miriade & Partners, for inviting Filippo Magnani and me to the tastings, and a big shout out for the majestic organisation of this annual event, in such a beautiful place as Amalfi Coast is. Go guys!
ALESSIA CANARINO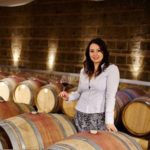 Born in 1981, from a half American half Italian family, Alessia has grown in Irpinia, a sub region of Campania, South Italy. After a degree in Media and Communication studies in London, she followed her love for Irpinia and came back to her land, starting immediately her career in the wine business, in one of the major wineries, Mastroberardino, where she has been working for five years in export and marketing. Feeling as she wanted to explore more, she moved to another winery of the region, Villa Raiano, where she has been working for further five years, as brand ambassador and marketing manager. During these years she licensed as Sommelier at Italian Sommelier Association (formerly AIS) and took the Wine & Spirit Educator Trust degree level 3.
She teaches for the Italian Sommelier Association English-speaking wine classes, "Let's speak of wine", and is entitled for teaching the classes of "Wines from New World" and "Sparkling wines". Alessia is also an active member of the association Donne del Vino (Women of Wine).
Now-a-days, Alessia works as a wine teacher at the US SS Navy Exchange in Campania, consultant for the local Italian Wine Tourism Association and for some Campania wineries as well as wine tour leader. She enjoys writing for some wine columns, as Wining.
She lives in her beloved countryside of Irpinia , enjoying the peaceful life of this region.