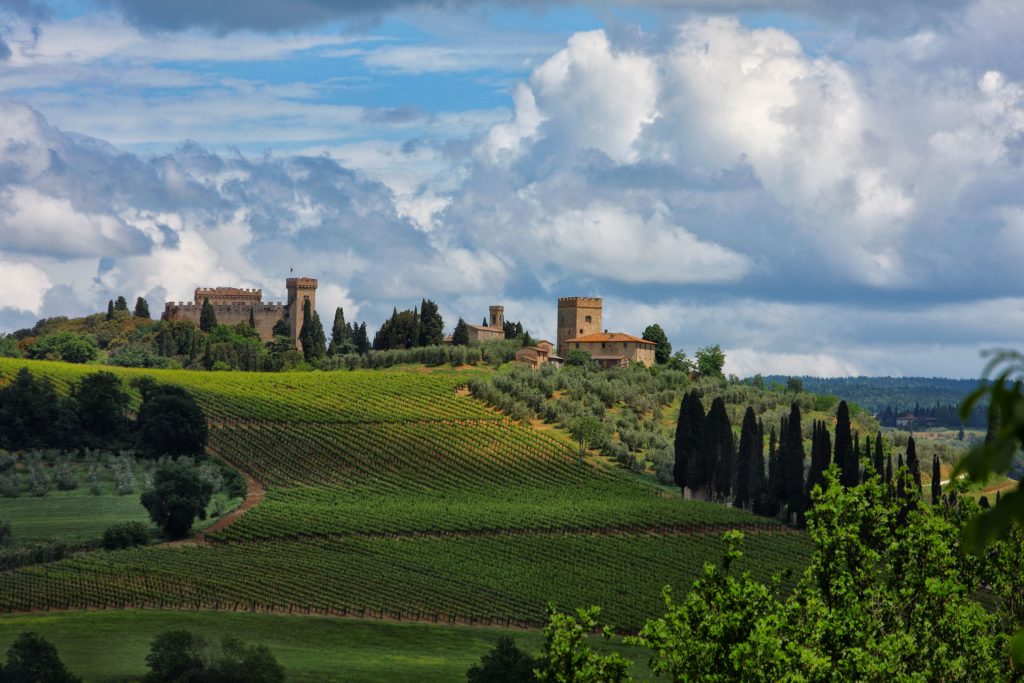 Chianti Classico is a land of such versatility and richness that could be confusing, that's why the Consortium has an important role in spreading awareness and territorial promotion. The Chianti Classico Collection is the yearly flagship event of the "Anteprime Toscana", long awaited days dedicated to one of the most fascinating wine areas in the world.  Last March the Collection moved back to its original location, the beautiful Leopolda station in Florence. This was the 29th edition of the flagship Black Rooster celebration and it was a pleasure to see my international colleagues back in the beautiful scenario of Florence, to evaluate the wonderful works of the Chianti Classico DOCG producers after these hard and struggling years. On the stage, the 2020 Annata, 2019 Riserva, and 2018 Gran Selezione, all close to getting access to the world market, and of course many other tasting proposals.  At the 2022 Collection 180 wineries presented 650 wines of which 161 Chianti Classico Riserva, 125 Gran Selezione and also 39-barrel samples from the 2021 vintage. 
Chianti Classico moves ahead.
The Black rooster is an identifying symbol of one of the most interesting wine areas in Italy and it is a wine district that is always evolving. The main topic of the two days of the Collection was the subdivision of Chianti Classico into Geographical Units called with the acronyms UGA. The Additional Geographical Units marked a step towards a deeper knowledge and a greater appreciation of the peculiarities of Chianti Classico. In this way the Consortium has tried to emphasise the specific microclimatic characteristics even more of narrower areas, in order to underline the many differences existing within the areas. The 11 UGA (San Casciano, Greve, Montefioralle, Lamole, Panzano, Radda, Gaiole, Castelnuovo Berardenga, Vagliagli, Castellina, San Donato in Poggio) are today labelled singularly with the name of the specific village of origin. This was introduced last year and dedicated exclusively, for the moment, to the Gran Selezione category. The other intervention on the chart of regulations for the DOCG was the 90% minimum percentage of Sangiovese in the blends for the Gran Selezione and the remaining 10% was left to other native varieties of the region such as Canaiolo, Colorino and Black Malvasia. Clear indicators of the path taken by the Gallo Nero producers towards an increasingly and more understandable regional identity. Showing the name of the municipal or village on the label will both spark and satisfy the curiosity of the increasingly high numbers of consumers who would like to improve their understanding of the relationship between the Black Rooster wines and their micro territory of production. 
Chianti Classico passaport
Chianti Classico is offered in three different types that represent its qualitative pyramid: Chianti Classico 'Annata', Chianti Classico 'Riserva' and Chianti Classico 'Gran Selezione'.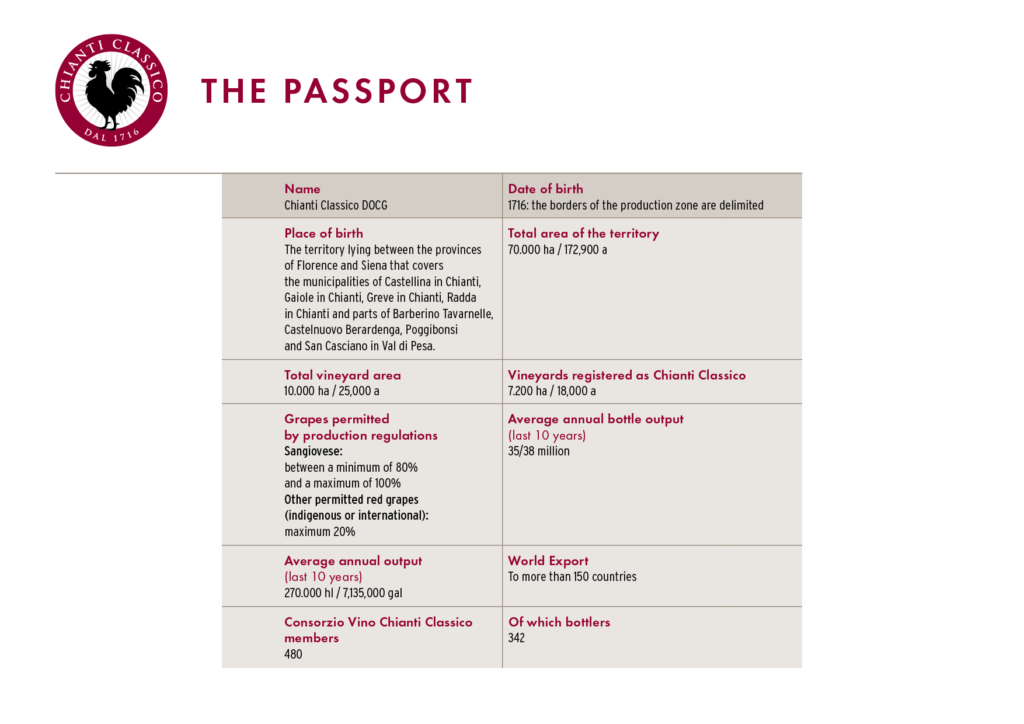 Chianti Classico the ultimate wine territory 
The Chianti Classico region has for centuries been one of the most popular destinations for wine enthusiasts alike. A wine paradise held in the arms of its two historical capitals: Florence and Siena. This area is mainly covered with woodlands, principally oak, chestnut and pine as well as cypress, situated on a plateau at altitudes between 200 and 800 metres. The highest altitude for growing grapes for Chianti Classico wine is 700 metres a.s.l. The local climate is continental with significant day-night temperature variation, generally low winter temperatures – below 4-5°C – and hot, dry summers, often reaching temperatures of over 35°. Geologically the land is a shield of clayey schists (marl), with layers of scaly clay, alberese and fine limestone sandstone.
Wine Escape Chianti Classico 
Tuscany is the most popular destination for wine enthusiasts from all over the world, and few other places stimulate a traveller's thoughts and imagination as much as the Chianti Classico. Along with the other leading wine production areas in Tuscany today, Chianti Classico is an extraordinary gateway to a deep and intimate knowledge of the roots of our culture and lifestyle. A destination that represents an ecosystem of services focused on wine, some tangible, and others less so, but all of them engaging. Today's "wine tourists" decide to visit this wine territory not only for its great, historic wines, but also to make memories, experience the flavours of a local osteria, the aromas of the cellars and the smiles of grandmothers on their doorsteps. Journeys that are more immersive, making intimate and personal contact with traditions, culture, and people. In this respect, the concept of terroir expands to "winescape" in order to better express its connection to the region.  Along the beautiful, winding roads of Chianti Classico, the winery doors are always open for visits and tastings. This is an area with a high density of wineries, a true oenological paradise, full of castles, ancient abbeys, where fine wines are matured, world-famous wineries alongside small and no less prestigious family-run estates, traditional cellars, and architectural masterpieces. A setting in which hospitality and associated experiences take on various forms, with all kinds of proposals and wine tourism activities. The producers understand the importance of hospitality: it has great economic value in terms of diversifying income, as well as being an effective means of communicating values and enhancing distribution of their wines. From curious wine enthusiasts to collectors, guests always want to visit the famous winemaking names of Chianti or discover hidden gems of the highest quality. From groups belonging to private wine clubs and sommelier associations to restaurateurs, wine tourism in the Chianti Classico region embraces an increasingly varied public. It is therefore increasingly important for the wineries to work together with the tourism sector as a whole, creating targeted and authentic wine and food trips.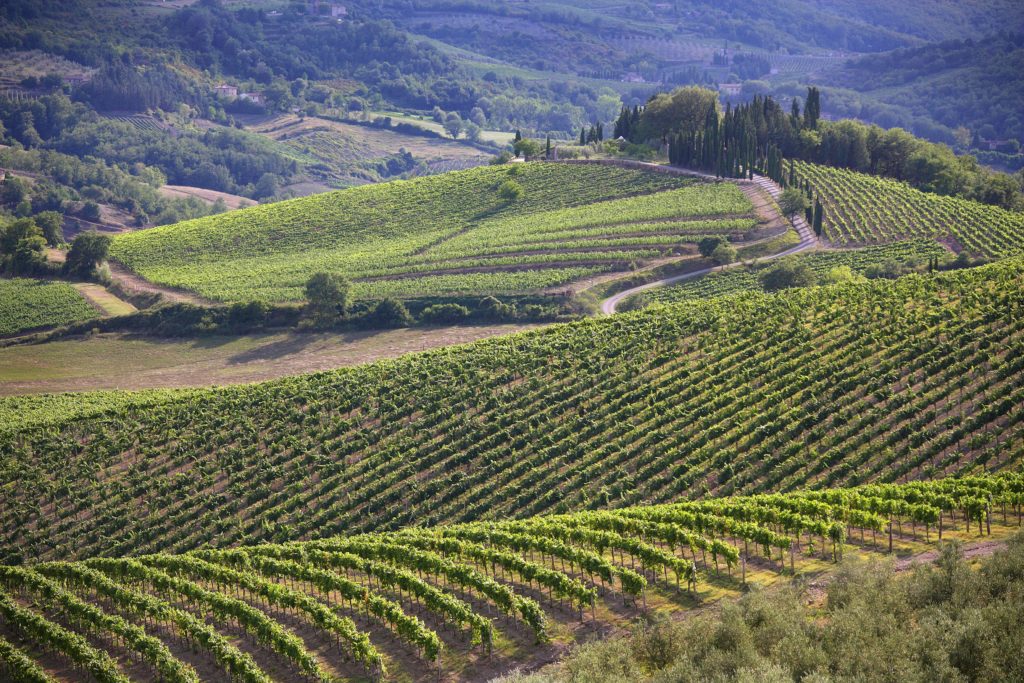 My tasting at the C.C.C 2022
I have reviewed almost 220 wines, from Annata Chianti Classico 2020, well as Riserva 2019 and Gran Selezione 2018. The Chianti Classico 2020 Annata showed beautiful lively coloured, ripe fruit with great aromatic intensity. An appropriate level of natural acidity guarantees good fragrance. The vast majority of wines I tasted were graceful with slightly lower alcohol content than average previous vintages. The Chianti Classico 2019 Riserva, in general, turned out to be soft, fruity with good structure and balance. I found a wide range of great wines, showing high intensity and complexity of aromas in the Gran Selezione 2018.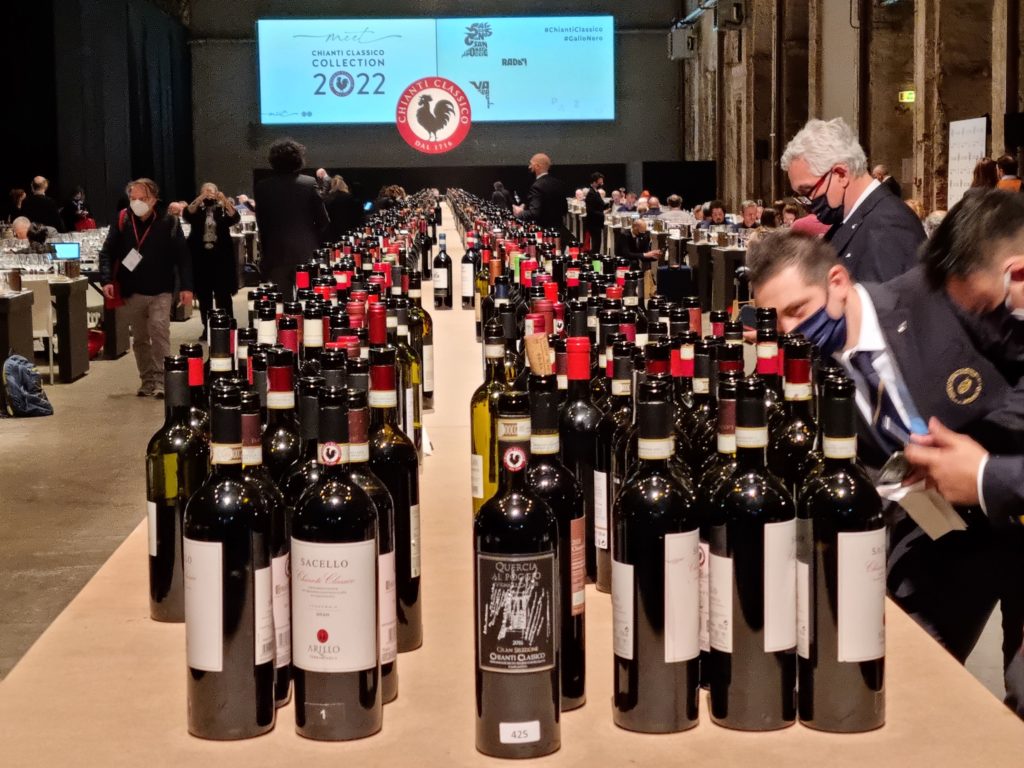 on my radar : Chianti Classico Docg Annata 2020
Winery: Montebernardi   
Wine: Chianti Classico Docg Retromarcia 2020
Intense ruby red with paler reflections. Distinctly rose floral nose mixed with hints of cherry. Full-bodied with pleasant red notes developing on the palate. Medium tannic structure. Long and fresh aftertaste. Charming wine. 
Winery: Rocca di Montegrossi 
Wine: Chianti Classico Docg Rocca di Montegrossi 2020
Medium ruby-red. Intense flavour of red plum and notes of violet. Medium acidity with discreet alcohol level. Fruity and spicy. Quite a long finish.  I like it. 
Winery: Bibbiano     
Wine:  Chianti Classico Docg Bibbiano 2020
Clean, ruby red with a paler tinge. Lovely aromas of strawberry and cherry with a touch of roses. Full body with round, sweet tannins. Fresh and harmonious finish. Very good wine. 
Winery: Cigliano di Sopra 
Wine: Chianti Classico Docg Cigliano di Sopra 2020
Ruby core with light purple rim. The nose is fruity and dynamic with a hint of spiciness. Well structured body with medium alcohol and soft tannins.  Dry and fresh, with a quite long persistence. I like it very much. 
 Winery: Poggerino 
Wine: Chianti Classico Docg Poggerino 2020
Ruby colour with paler hue towards the edge. Intense bouquet of cherry with balsamic notes. Lovely entrance, round with ripe fruit, medium body. Firm, velvety tannins with a long finish. I love it. 
Winery: Castello di Querceto 
Wine: Chianti Classico Docg Castello di Querceto 2020 
Ruby core with light purple hue towards the edge. The nose is fruity and dynamic with a hint of pepper. The palate expresses ripe red cherry with a well structured body, medium alcohol and soft tannin. A bit light at the end. Good wine. 
Winery: Brancaia  
Wine:  Chianti Classico Docg Brancaia 2020 
Brillant, ruby red with compacted rim. Pronounced flavour of cassis with  overtones of violet. Full bodied with quite bright acidity. Well balanced with rich red fruit and soft tannins. Harmonious end. Great wine.
on my radar : Chianti Classico Docg Riserva  2019 
Winery: Castellare di Castellina 
Wine: Chianti Classico Docg Riserva Castellare 2019
Intense and brilliant garnet colour. Its bouquet is intense and ample with notes of blackcurrant and violet. The palate is rich and elegant. Full bodied with impressive freshness and velvety tannins . Long finish. Great wine.
Winery:  Le Miccine 
Wine:  Chianti Classico Docg Riserva Le Miccine 2019
Ruby core with narrow rim. Lovely nose with red plum and notes of rhubarb and liquorice. Powerful structure with ripe red fruit, fresh with well integrated soft tannins. Long finish. Great wine. 
Winery: Felsina   
Wine: Chianti Classico Docg Riserva Rancia 2019  
Clear, deep red garnet colour. Intense flavour of cherry, blueberries and violet. Spicy with notes of liquorice and mint. The mouth is dense with medium soft tannins and toasty hints. Elegant wine with long and pleasant aftertaste Charming, fine wine. This is an excellent wine
Winery:  Riecine 
Wine:  Chianti Classico Docg Riserva Riecine 2019 
Deep ruby core with compact rim. Intense flavour of cherry, blueberries and violet. Spicy with notes of liquorice and mint. Full bodied wine with rich dark cherry fruit well balanced with soft tannins. Elegant and harmonious finish. Charming, fine wine. 
Winery:  Castello di Ama    
Wine:  Chianti Classico Docg Riserva Montebuoni 2019 
Deep ruby colour, lighter on the edge. Pronounced bouquet of cherry with overtones of blackberry and chocolate. Fragrant entrance, round with ripe fruit. Firm, velvety tannins with long length. I like it ! 
on my radar : Chianti Classico Gran Selezione  2018 
Winery: Conti Capponi/Villa Calcinaia  
Wine: Chianti Classico Gran Selezione Vigna La Fornace 2018 
Medium ruby core, paler towards the edge. The wine displays intense flavour of wild berry with scents of new leather. Rich and powerful,  good balance of body, fruit, acidity and firm tannins. Lovely wine with great potential. 
Winery: I Fabbri 
Wine: Chianti Classico Gran Selezione I Fabbri 2018 
Ruby colour turning slightly garnet on the rim. Beautiful aromas of ripe cherry and prune with balsamic overtones. Blackcherry in the palate with a light smoky scent. Medium body with round, fine tannins. Fresh delicious finish. 
Winery: Ricasoli 
Wine: Chianti Classico Gran Selezione Castello di Brolio 2018
Bright, intense ruby with garnet hue. Itt displays intense flavour of cherry and blueberry with light earthy overtones. Juicy and vibrant with medium-bodied palate, soft tannins and toasty light notes at the end.  I have really appreciated this wine. 
on my radar : Chianti Classico Gran Selezione  2017
Winery:  Castello di Monsanto 
Wine: Chianti Classico Gran Selezione Vigna Il Poggio 2017
Deep garnet core with ruby tinge. Complex nose with flavour of  black cherry and prune with a note of rhubarb. Fragrant, juicy palate with present acidity. Discrete alcohol level and soft tannins well integrated with the fruit. Long finish. Great, fine wine. 
Winery: Querciabella 
Wine: Chianti Classico Docg Gran Selezione Querciabella 2017
Brilliant, deep garnet colour with a compact rim. Various and intense aromas of ripe plum, blackberry and chocolate. Full bodied wine with rich dark cherry fruit well balanced with soft tannins. Elegant and harmonious finish. Outstanding wine,  clear expression of pure Sangiovese with long life.