SUVERETO: An authentic gem in the Val di Cornia, a quiet wine corner on the Tuscan Coast.  – Decanter 
Bordeaux varieties thrive alongside Sangiovese and local white grapes in this small corner of the northern Maremma. Suvereto local Filippo Magnani takes a closer look.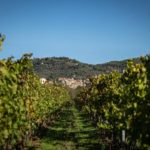 Suvereto has been my home all my life and talking about one's hometown may seem simple, but it is not. It is so very easy to lose the perception of what surrounds you. Have you ever been to or heard of Suvereto and the Val di Cornia? Going along the beautiful Tuscan coast, in the province of Leghorn (Livorno), the village of Suvereto sits between the metalliferous red hills and the transparent blue sea, with Elba Island as a suggestive backdrop. Its name comes from the cork trees (quercus suber) that abundantly grow in the surrounding area. From the Roman "Suber(e)tum", the name evolved into "Sughereto" and finally into "Suvereto". Here the Etruscans and the Romans had already sensed the richness and potential of the area which, although not very extensive, was characterized by an exceptional variety of natural resources, an important complexity of soils and an ideal microclimate for producing great wines. Although it is a relatively young territory for wine production, with humble origins, it is beginning to slowly have increased success.
A fascinating micro wine district. 
In this small corner of the Tuscan coast, only 850 hectares of land are actually planted with vineyards whose altitude can vary between 100 and 380 metres above sea level; this unique territory produces a great variety of blends and styles of wines. It is located in the area known as the Val Di Cornia, a multifaceted territory with Suvereto situated in the middle, in the cradle of the wine production. There are many factors that determine the unique pedoclimatic conditions for the production of wine resulting in rich biodiversity. Firstly, the proximity to the sea has a fundamental impact on the health and maturation of the vines. The thermal northwest Mistral wind channelled between Elba and Corsica Islands, mitigates the hottest summer temperatures, aerating the vines, imparting greater freshness into the wines. It also keeps the grapes free from humidity and mould. The shimmering Tyrrhenian Sea has the role of a "sunlight mirror", enhancing and helping regular ripeness of the grapes. Other essential elements that create appropriate conditions for the viticulture in this wine district are the morphology of the territory and heterogeneity of the soil. The "Metalliferous hills" are an impervious range of hills densely covered with Mediterranean vegetation, which stretch northeast, behind the village. They embrace the open plain leading towards the sea, protecting vineyards from winter fronts and heavy rainfall. Here the vegetation gives way to sulphuric gasses and fumaroles, a whiff of aqueous vapor, tangible signs of a geothermal area, full of minerals. Nestled in this sort of natural amphitheatre, between three main hills, San Lorenzo, Montepeloso, Belvedere and the mount Montecalvi (600 metres) is where the majority of the wine estates are located. The identification of these macro areas, has been well underlined by a recent study made by groups of wine professors and that could be the prelude of a more detailed soil zonation in the future. In fact, a diverse soil composition has been mapped and varies from red clay zones to schist, sloping to calcareous and rocky, ending in sandier areas towards the Cornia river and the Tyrrenean sea.
In addition to the richness of the soil, the presence of three waterways; the river Cornia (the main one) and the two tributaries Milia and Massera, help to create the conditions for accentuated seasonal and daily temperature variations which is beneficial to the vines. For these multitude of reasons, Suvereto and its surroundings are the places where the production of red wines based on Bordeaux blend have coexisted in symbiosis with Sangiovese for many years. The presence of Bordeaux varieties dates back to Elisa Bonaparte Baciocchi, Napoleon's sister, who first brought the French vines here at the beginning of the 19th century, when her brother was exiled to Elba Island. This coexistence is well displayed today in an array of wines which goes from the monovarietal Merlot, Cabernet, Syrah and Sangiovese to different blends between these varieties. This is the evidence that Sangiovese, the Tuscan red grape par excellence, is still playing an important role in the area. However, what really distinguishes Suvereto, from its neighbouring wine districts, on the Tuscan coast is the personality of its whites. For many years now, practically all the estates have begun to focus on Vermentino and some of them on Ansonica, two Mediterranean varieties that in this specific area, are capable of imprinting more sapidity, minerality and acidity, producing wine with character and great value.
Consortium Dop Suvereto and Val di Cornia Wine, a newcomer on the Tuscan wine scene 
As like the history of many other Italian wine areas, also in the wine district of Suvereto and the surrounding Val di Cornia, vines and other agricultural products have been cultivated for centuries. But it is only since the beginning of the 1980s, that a small group of passionate growers have oriented their farming production towards viticulture and winemaking as a core business and have begun bottling their own labels. This evolution in wine production, has accelerated in the last twenty years thanks to efforts of certain wineries such as Tua Rita, who perfectly interpreted the future vision of the viticulture in this area, together with other renowned estates like Petra, Tenuta Casadei, Bulichella, Montepeloso, Gualdo del Re. After much turbulence, in early 2020, this group of pioneers, proved to be a fundamental pivot in the formation of the new "DOP Suvereto and Val di Cornia Wine Consortium". All the other local family estates La Fralluca, Petricci e Del Pianta, Il Falcone, Macchion dei Lupi, I Mandorli, Incontri, Colle Vento, TerraVita, Il Bruscello, Poggio Banzi, Terradonnà, Renis, Rapitti, Tenuta La Batistina, Carlini, Sant'Agnese, Giomi-Zannoni, Rigoli, some of them already with a prestigious reputation, have enthusiastically shared the same desire of making their land speak for itself. It wasn't an easy road but today, Suvereto and the Val di Cornia are home to 30 wine estates that are enthusiastically carrying out a common project for the territory.
Seven names to know
La Fralluca: 
The wine journey of Francesca and Luca wine began in early 2000 along the coast of Tuscany stopping at Barbiconi in the hills of Suvereto.  In October 2008, after the first harvest, the wines were baptized with the names of characters who in classical mythology were transformed into trees that characterize this area. The three whites are produced with 100% Viognier and two Vermentino vines: Bauci (lime) and Filemone (oak) and Elice. The reds are Fillide (almond), the only blend made up of Sangiovese, Syrah, and Alicante; Pitis (pine), a 100% Syrah; Ciparisso (cypress), 100% Sangiovese and Cabernet Franc.
Foundation year:   2005
Ownership:  Recine Family
Total annual production:  40.000 bottles
Hectares of vineyard:   10
Key varieties:  Sangiovese, Syrah, Cabernet Franc, Vermentino, Viognier
Bulichella: 
Bulichella was born with a fascinating love story. At 22, Hideyuki Miyakawa left Japan in 1960 for a motorbike trip around the world, in Turin he met his future wife Marisa, and they had 7 children. His journey continued to Tuscany where, in 1983, they bought La Bulichella winery. After experimenting with different varieties, the variety that has been able to express the territorial characteristics most of all has been the Cabernet Sauvignon. The flagship label Montecristo, is related to the island and is a blend of Cabernet, Merlot and Petit Verdot
Foundation year: 1983
Ownership: Hideyuki Miyakawa & Family
Total annual production; 75.000 bottles
Hectares of vineyard: 14
Key varieties Vermentino, Sangiovese, Syrah, Cabernet Sauvignon, Merlot, Petit Verdot
Montepeloso:  
A purist and a great scholar, on the uniqueness of Suvereto. Fabio produces wines with a great character with respect to the strong bond with the peculiarities of his vineyards. He makes fascinating wines such as Eneo and Nardo, both based on the certain local varieties, Sangiovese, Montepulciano, Alicante and Black Malvasia. Also, a tiny production of Gabbro, 100% Cabernet Sauvignon.
Foundation year: 1999
Ownership: Montepeloso S.S Agricola (Fabio Chiarelotto e Silvio Denz)
Total annual production: 130.000 bottles
Hectares of vineyard: 17
Key varieties:  Sangiovese, Alicante, Malvasia, Cabernet Sauvignon
Tua Rita:
Tua Rita was born in 1984, when Rita Tua and Virgilio Bisti decided to buy 2 hectares of land on the hills of Notri in Suvereto. The turning point was 1992 with the first vintage of Giusto Di Notri, a blend of Cabernet Sauvignon and Merlot. The first great success of the company coincided with the harvest of 1994. The wine from a parcel of Merlot was named "Redigaffi" and became one of the most iconic Italian merlots. Today the new generation Simena, her husband Stefano, and her son Giovanni continue to carry on the same ideals initiated by Rita and Virgilio.
Mrs. Rita Tua's family, Foundation year: 1984
Ownership: Rita Tua, Simena Bisti, Stefano Frascolla, Giovanni Frascolla
Total annual production: 350.000 bottles
Hectares of vineyard:  57
Key varieties: Merlot, Cabernet Sauvignon, Syrah, Sangiovese
Tenuta Casadei: 
The project Tanuta Casadei came from a vision of Stefano Casadei and his partner Fred Cline, a passionate Californian in love with Tuscany. Their work started from the study of the subsoil and continued following the principles of sustainability with absolute respect for nature. The vinification takes place in concrete tanks, terracotta amphorae and oak barrels. Sogno Mediterraneo is the Syrah; Filare 41 is 100% Petit Verdot and Filare 18 the 100% Cabernet Franc.
Foundation year: 1998
Ownership: Stefano Casadei and Fred Cline
Total annual production: 130.000 bottles
Hectares of vineyard: 13
Key varieties:  Cabernet Sauvignon, Cabernet Franc, Petit Verdot, Viognier, Merlot, Syrah, Ansonica
Petra:  
Before being a winery, Petra is a natural oasis that stretches for 350 hectares: a lush amphitheatre that grazes the Metalliferous Hills and the Park of Montioni, opening south-west towards the island of Elba and the Tyrrhenian Sea. In 1997, Francesca Moretti's dream materialised in Suvereto, Val di Cornia, in the Tuscan Maremma. Since the very beginning, the project has aimed to bring out the beauty of the surrounding area with Mario Botta's project. The philosophy behind Petra's production is founded on respect for biodiversity.
Foundation year:  1997
Ownership: Moretti Family
Total annual production: 355.000
Hectares of vineyard: 350
Key varieties: Cabernet sauvignon, Cabernet franc, merlot , sangiovese, viognier, syrah
Macchion dei Lupi, Carlo Parenti:  
Instinct, courage, and love for the land are the words of the story of Carlo Parenti that led him to leave Milano for Suvereto and establish the Macchion dei Lupi tiny estate. The initial project was focused on reds, but today "I am the only producer in Suvereto that sees the centrality of production in white wines". Initially the amber of my Ansonica did not align with the local standards of approval (including visual) and was roughly confused with "marsala" wine; but today it is one of the most charming wines in the area.
Foundation year: 2005
Ownership: Carlo Parenti
Total annual production: 25.000 bottles
Hectares of vineyard:  4.5
Key varieties   Ansonica, Cabernet Sauvignon
Suvereto at a glance
Mediterranean climate with long growing seasons, hot and dry summers, mild winters. Average yearly temperatures of 15 C. Average annual rainfall, 500/650 mm. Well-ventilated area with northwest sea-breezes in summer and north, northeast winds in winter.  Excellent night/day temperature variation. Constant light exposure with mirror effect from the sea
Amphitheatre of hills rising in a geothermal area, rich in minerals and underground water streams. Red clay, schist, calcareous soil, sandier in lower portions. Vineyards 100 – 380 metres above sea level. Training methods Guyot and single cordon spur pruned.
Most planted grapes. 80% red varieties: Merlot, Cabernet Sauvignon, Sangiovese followed by Cabernet Franc, Syrah, Petit Verdot. 20% White grapes: Vermentino, Trebbiano Toscano, Ansonica and Viognier.
Recent vintages

2018 
The first part of the year was marked by a short and gradual vegetative phase in early spring, followed by regular bud break. Temperatures rose considerably from mid-July, and a long period of constant, fine weather was interspersed only by a short break of intense rain at the beginning of August. Harvesting operations lasted on average 20 days from the beginning of September, a little shorter than normal.  In general, the wines turned out to be soft, fruity with good texture and balance, suggesting a classical vintage.
2019 
Spring began with a good amount of rain and cooler temperatures which delayed the grape flowering. This phenological delay continued all summer, also marked by fresh, cooler temperatures. The harvest lasted 40 days from early September releasing healthy grapes with harmonious maturation. The wines show beautiful deep colour, ripe fruit with pronounced aromatic intensity. Velvety tannins and an appropriate level of natural acidity which guarantees impressive fragrance are the proof of a great year with ageing potential.
2020
Throughout the year the weather conditions were regular with moderate temperatures, combined with rain in spring. The season continued with a hot, dry summer so particular attention had to be paid to the foliage. The harvest started at the end of August and continued for approximately 30 days. The vast majority of wines were graceful, showing lively colour, ripe fruit and good structure. A good vintage with balanced wines.
Tasting notes – 6 wines
Elice, Costa Toscana Vermentino Igt – La Fralluca – Suvereto, Tuscany – 2018
Unlike other types of Vermentino, Elice is a special "cru" made in a vineyard called the "Punta". Here the vines face south and are planted in a hilly, limestone soil with a density of 7000 plants per hectare.  After vinification it ages on the lees for 9 months in steel tanks, then it refines 20 months in bottles. Its bouquet is intense and ample with notes of grapefruit and lemon with scents of ginger. Dry with lively acidity and a good fruit. Vibrant, pleasant finish.
Bulichella, Docg Suvereto, Montecristo, Suvereto,Tuscany – 2018
Bulichella was certified the first biological wine and olive oil estate in Suvereto in 1983. The first vintage of Montecristo in 2015, marked the consolidation of the winery in Italy and abroad. It is the perfect synthesis of a selection of old vines of Merlot 60%, Cabernet Sauvignon 30% It is called Montecristo because Hideyuki loves Dumas and the count of the island seen from the vineyards. The wine expresses an intense flavour of blackcurrant and blueberry with a hint of violet and light overtones of vanilla. Rich and powerful with good balance of body, fruit, acidity, and firm tannin. Vibrant and harmonious finish. Food pairings: great with game and roasted meat.
Nardo, Costa Toscana Igt – Montepeloso – Suvereto,Tuscany – 2019
Only 3.400 bottles of Nardo are the result of a meticulous work of Fabio Chiarelotto who identified in the oldest vines that would represent the blend of Nardo: Sangiovese, Black Malvasia. Montepulciano and Alicante. After a period of maceration, the free run juice ages in French tonneaux for 10 months and 12 months in the bottle. It is powerful wine with deep, ruby colour, pronounced bouquet of black cherry with scents of chocolate and a hint of black pepper. Fragrant, juicy palate with present acidity and velvety tannins. Long finish with equilibrium and finesse. A great, charming wine.
Giusto dei Notri, Toscana Rosso Igt – Tua Rita – Suvereto,Tuscany – 2019
Giusto dei Notri represents the original spirit of the winery, which first positioned Tua Rita in between the premium wine producers in Italy. The vineyards of the "Giusto" are characterised by a pebbly soil rich in red clay and limestone. It is a blend of Cabernet Sauvignon, Merlot, Cabernet Franc, refined for 18 months in French oak barrels. The nose shows beautiful aromas of plum and blackcurrant with notes of rhubarb and liquorice. The palate is elegant with overtones of black cherry. Dry and fresh, with silky tannins and long persistence. An outstanding wine.
Filare 18, Toscana Igt – Casadei – Suvereto,Tuscany – 2018
The 18 is the number of the first row or "filare in Italian" of the vineyard, planted in 1999, producing 7.000 bottles, all 100% Cabernet Franc. After being destemmed, and slightly crushed, the berries are transferred into 10 hl terracotta amphoras where they stay for 30 days for spontaneous fermentation and maceration. The wine then ages in new French oak barriques for 18 to 20 months. It expresses an intense bouquet of blackberry with balsamic notes of eucalyptus and light toasty after tones. Full bodied with rich fruit, well balanced with firm tannins. An opulent and harmonious finish.
Petra, Toscana Rosso Igt – Petra – Suvereto, Tuscany – 2018
Like the winery Petra, has a beautiful visual impact for every visitor, the wine with the same name radiates a sublime influence on the taster. This is the selection, the signature label of the estate, 70% Cabernet Sauvignon and 30% Merlot. Vineyards are between 20-35 years old planted in calcareous soils with a good balance of clay and pebbles. The vintage 2018 shows a complex nose with intense flavour of black cherry and raspberry with lovely notes of liquorice and cinnamon. Full and harmonious, with soft tannins and a long, elegant aftertaste. A delicious wine.