Suvereto charms travellers with its
medieval architecture, slow pace
and green surroundings. Its wines
are equally beguiling: scented like
the Mediterranean maquis,
refreshing like a dip in the nearby
sea and sincere as a sojourn under
the southern Tuscan sun.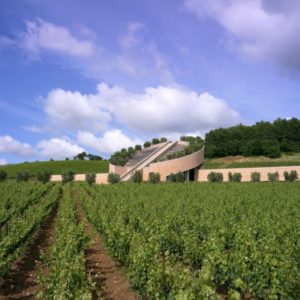 Petra was designed by Italian architect Mario Botta
Petra provides an introduction to Suvereto's wine scene.
Situated southeast of the picturesque town on the other side of
the river Cornia, the impactful circular edifice designed by
Mario Botta seizes the sightline on turning through the estate's
gates. Somewhere between spacey and sophisticated,
modernity holds the cards in this reinforced concrete
construction, an ode to founder Vittorio Moretti's industrial
building empire. Climb the steps onto the roof planted with
olive trees before following the gravity-led route travelled by
the grapes from the upper fermentation room to the barrique
tunnel, complete with a multi-coloured light show, delving
deep into the hillside. All Supertuscan, the wines are
stylistically similar, from the herbaceous Hebo, a Cabernet
Sauvignon-Merlot blend with a dash of Sangiovese, to the
distinctive signature label Petra, while the 100% Cabernet
Sauvignon Potenti 2016 wooed me with its sublime perfume
and salinity.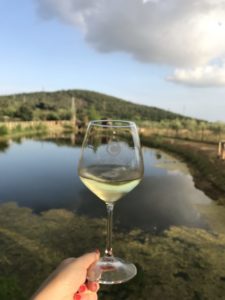 Raising a glass of Incanto Mediterraneo, an Viognier and
Ansonica blend, at the official winery opening of Tenuta Casadei /
ph. @helencfarrell
Next up was Tenuta Casadei, the product of a transatlantic
meeting of minds between Stefano Casadei, of Castello del
Trebbio in the Florence hills and Olianas in Sardinia, and Fred
Cline, of Cline Cellars Winery in Sonoma, California. A fiveminute drive due east of Suvereto, visitors are welcomed to this
verdant paradise by the Porta del Sole, a striking porch through
which natural light streams into the cellars below from the
educational roof, planted with herbs, vegetables and fruit trees.
Biointegral ethical farming principles are embraced here with
hand harvesting and refinement in terracotta jars. Only 13
kilometres from the sea and 50 metres above sea level,
international varieties Cabernet Sauvignon, Cabernet Franc,
Petit Verdot, Merlot, Grenache, Mourvèdre, Syrah and Muscat
line the immaculate 16-hectare marl and sandstone soils on the
estate, which can be enjoyed during a lakeside picnic and
explored by horse-drawn carriage. (Ursula, Dinette and Ulysses'
main occupation is ploughing the rows between the vines.) A
purebred Cabernet Franc, Filare 18 2016 epitomizes the energy
that can be achieved by biodynamic winemaking.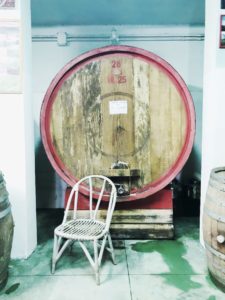 In the cellar at family-run Vigna I Mandorli / ph. @helencfarrell
Now hooked on Suvereto wines, a separate visit to the area
began with a morning tour of Vigna I Mandorli. Reached along
a winding route north of the town, this hilltop winery run by the
Pasquetti family lovingly crafts very different wines to the
cellars at sea level. A leafy expanse of Cabernet Sauvignon and
Franc sweeps across the sea-facing slope at an altitude of 280
metres, which results in an intoxicating perfume of salt and
spices, sun and sultriness. On the other side of the hill,
Sangiovese grows silently surrounded by cork oak woodland
and shrubbery, looking over the metal-bearing hills; the end
product is a masterpiece offering a new perspective on the wild
and wonderful nuances of Tuscany's native grape.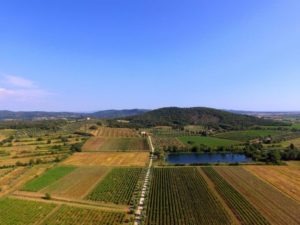 An aerial view of Bulichella
Bulichella has a fascinating backstory. At 22, Hideyuki
Miyakawa left Japan in 1960 to travel the world by motorbike.
In Turin, he fell in love with his future wife, Marisa, before
becoming besotted with Suvereto and establishing Bulichella
as a strictly organic farm in the eighties. A few minutes east of
the town, the bucolic estate stretches over 42 hectares of land,
producing beguiling wines that showcase Suvereto's infinite
personality. Poised and profound, Sol Sera is an onion-skin rosé
that's all blackcurrants and forest fruits; it represents the
pinnacle of Tuscan pinks. There's nothing entry level about the
entry-level Rubino, an enduring Sangiovese, Merlot and
Cabernet blend, which was Bulichella's first wine, while
Coldipietrerosse proudly flies the flag as a Suvereto DOCG with
its plush palate and smoke and chocolate finish. The best is yet
to come as the founder's namesake label, Hide 2015, is
revealed. The spiced Syrah nose is counterbalanced by
outstanding freshness and acidity; it's no wonder this wine
struck gold in the 2018 Decanter World Wine Awards.
The final stop on my Suvereto travels was at world-famous
winery Tua Rita, whose Redigaffi is held in high esteem as
"possibly Italy's greatest Merlot" by wine writer Hugh Johnson.
While the 2017 is a delight to taste, complex and unparalleled,
the cantina stands for considerably more than one iconic label,
having pioneering the local wine scene since its inception in
1984. In the Notri area, southeast of Suvereto, lush vines glide
across a gentle slope of sea level soil, which varies between
stones and clay, lime and sand, all underpinned by mineral
salts and ferrous residues. Syrah that's subtly spiced (Keir 2017,
fermented in amphora) and expansive (Per Sempre 2017, aged
in barrique), saline Sangiovese (Perlato del Bosco 2017), and
collectable international blend Giusto di Notri 2017, celebrating
its 25th vintage, every bottle conveys this distinctive terroir that
excites and keeps enticing me back.
With thanks to Filippo Magnani, who is based in Suvereto
and has been organizing wine gourmet tours in Tuscany and
Italy since 1999.